a
Naval Defnse Industry News - USA
U.S. Naval Sea Systems Command Awards Lockheed Martin $10 Million Contract To Maintain MK-48 Torpedoes

Operational readiness of the U.S. Navy's MK-48 heavyweight torpedo inventory will continue to be ensured by Lockheed Martin. The Naval Sea Systems Command (NAVSEA) awarded Lockheed Martin a contract option worth approximately $10 million to support the Navy's intermediate-level maintenance activities for all MK-48 torpedoes. This is the first option exercised from a contract awarded in 2013 and brings the total contract value to more than $18 million.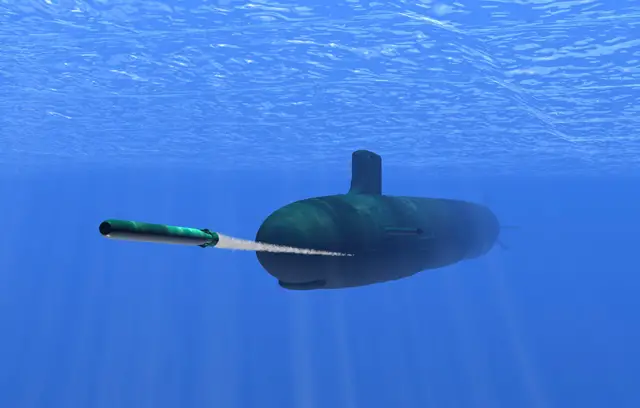 MK 48 Mod 7 Common Broadband Advanced Sonar System (CBASS) Torpedo
"The key to this program's success is our strong partnership with the U.S. Navy," said Dr. Rob Smith, vice president of C4ISR for Lockheed Martin Information Systems & Global Solutions. "Working in unison, our teams established a diligent process that ensures reliability and helps reduce life cycle costs for the Navy's torpedo enterprise."

Lockheed Martin has provided specialized undersea weapons maintenance for the MK-48 since 2007. The Lockheed Martin team includes qualified torpedo maintenance technicians who maintain the Government-furnished equipment and property according to Navy regulations. Lockheed Martin provides all infrastructure support for the intermediate maintenance activities, including quality assurance, training, audit support, pier side services and ordnance handling. The Navy provides the facility, all required parts and equipment, as well as the procedures necessary to perform the maintenance tasks.

Since torpedoes can be used multiple times for training and exercises, Lockheed Martin refurbishes these heavyweight torpedoes to ensure adequate numbers of ready-for-issue weapons are available to the Navy's Fleet Commanders. Lockheed Martin performs intermediate-level maintenance for both exercise and wartime-ready "warshot" configurations of the MK-48 advanced capability torpedoes. These training torpedoes are used for fleet training, a critical combat advantage to the submarine force, and their reliability is paramount in the success of this training.

Work on this contract is performed at the Navy's facility in Pearl Harbor, Hawaii.