a
Naval Forces News - Malaysia
Royal Malaysian Navy Releases First Official Image of its LCS-SGPV Corvette
The Royal Malaysian Navy (RMN) unveiled for the first time an official rendering of its future Littoral Combat Ship (LCS) - Second Generation Patrol Vessel (SGPV). The vessel is based on DCNS' Gowind Combat corvette design. DCNS is the warship design authority while local shipyard Boustead Naval Shipyard Sdn will be in charge of buidling the vessels locally.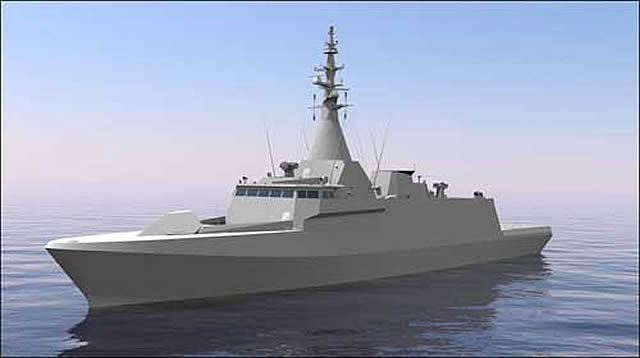 Royal Malaysian Navy LCS is based on DCNS Gowind Combat corvette design. The use of a stealth cuppola for the main gun (similar to Swedish Navy Visby class) and the re-worked bridge area shows the stealth requirement for the class were a priority. Image: Royal Malaysian Navy
The RMN's LCS will have a length of 111 meters and a displacement of 3,100 tons. The 6 vessels will be fitted with 57mm Mark 3 main guns with stealth cupola from BAE Systems Bofors. It was confirmed to us during LIMA 2013 that the combat management system will be the SETIS by DCNS, the Fire Control Systems will be provided by Rheinmetall, and the engines will be provided by MTU. There will be two 30mm remote weapon stations by MSI. Thales announced ealier this year that it has signed a Letter of Award with Contraves Advanced Devices Sdn. Bhd. to supply six SMART-S Mk2 naval surveillance radar systems, as well as six CAPTAS-2 towed sonar systems for the Royal Malaysian Navy's Second Generation Patrol Vessel (SGPV) Littoral Combat Ships (LCS).

Navy Recognition's own sources indicate it is now highly likely that the anti-ship missiles and surface to air missile will be provided by MBDA (MM40 Block 3 and VL Mica respectively).

First ship of the class is set to be floated out and lowered in the water via a platform in December of 2018.
During DSA 2014 Anuar bin Murad, Director of Defence and Security at BIHC and Gowind program manager, gives us the latest update on the SGPV (Second Generation Patrol Vessel) - LCS (Littoral Combat Ship) program for the Royal Malaysian Navy. The vessel is based on DCNS' Gowind combat corvette design.
Royal Malaysian Navy statement:

In accordance with its long term plan to become a World-Class Navy, the Royal Malaysian Navy ordered six LCS class frigates with four-dimensional warfare capabilities.
Procurement contract is between the Government and Boustead Naval Shipyard Sdn Bhd (BNS). This acquisition is a continuation of the acquisition of six New Generation Patrol Vessel (NGPV) of BNS before. LCS will be equipped with the tools and systems for 4-dimensional war with Surface to Air Missile system (SAM), Surface to Surface Missile (SSM), Medium Caliber Gun (MCG), Small Caliber Gun (SCG), Towed Array Sonar (TAS), torpedo and Decoy Launching System (DLS) technology. In addition, the LCS has acquired a modern stealth design and will meet the defense capability of the 21st century. This acquisition will also strengthen the navy as a credible navy in the Southeast Asian region and internationally.