a
Naval Industry News - UAE
Abu Dhabi Ship Building delivers Al Hili, sixth and last Baynunah class Corvette to the UAE Navy

The Abu Dhabi Ship Building Company (ADSB) has delivered Al Hili, the sixth and last
Baynunah class corvette
to the UAE Navy in a grand ceremony attended by Rear Admiral Ibrahim Al Musharrakh, Commander of the UAE Naval Forces, top navy officers and Khaled Al Maraikhi, Chief Operating Officer, ADSB, and Chief of Pakistani Naval Staff Admiral Asif Sandila.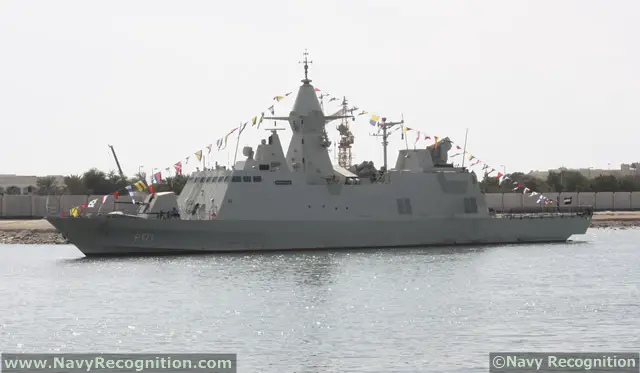 UAE Navy Corvette Baynunah at NAVDEX 2013
Baynunah Corvettes are a unique class of warship with multi-mission capabilities, including coastal patrol and surveillance, mine detection and avoidance, helicopter operations, as well as anti-air and anti-surface capabilities. In performing these missions, Baynunah will utilise the very latest in weapons and sensor technology.
Al Maraikhi said in his address during the ceremony on Thursday that the Baynunah Corvette Class Programme is one of the biggest warship construction programme implemented by the ADSB for the UAE Navy.
He noted that delivery of Al Hili represents an important, positive step towards self-reliance in military production.
Construction of the ship started on September 27, 2009 and it took to the water on Thursday.
The ships of this class have steel constructed hull and deck, with superstructure fabricated from aluminum. The superstructure arrangement is designed to minimise radar cross-section.
Each of the highly advanced Baynunah Class Corvettes can be deployed for various missions, including coastal patrol and survey, helicopter operations, and peacetime patrols.
The ship is designed to provide the navies with a multi-role surface vessel capable of sustained operations throughout the GCC region. The vessels are designed to conduct peacetime patrols in their territorial waters and exclusive economic zones, together with surveillance, maritime interdiction, support to other forces, and the protection of coastline and ports.

From Khaleej Times

Link to Baynunah class Corvette technical datasheet