a
Naval Forces News - Vietnam
Vietnam accepted the second project 636 SSK and officially commissioned the first one
On the morning of January 15, 2014 in the Vietnamese naval base in Cam Ranh Bay , took place the commissioning ceremony of the Vietnamese Navy large diesel - electric submarine (SSK) HQ-182 "Hà Nôi" (Project 636 Kilo/Varshavyanka class). It is the first unit of six SSK built in Russia by JSC "Admiralty Shipyards" under a 2009 contract. In a ceremony attended by Navy Commander of the Vietnam People's Navy (VNA), Vietnam Deputy Defence Minister Admiral Nguyen Van Hien and Deputy Commander of the Navy Vice Admiral VNA Pham Ngoc Minh.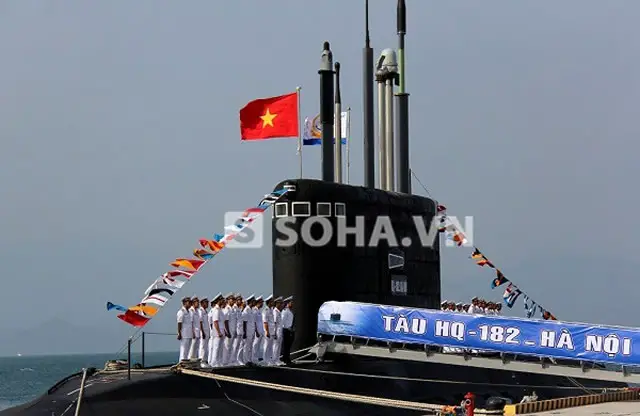 A Project 636 heavy diesel-electric submarine (SSK) HQ-182 "Hà Nôi"
during the commissioning ceremony. Source: soha.vn
The first unit, HQ-182 "Hà Nôi", keel was laid at JSC "Admiralty Shipyards" in St. Petersburg on August 24, 2010, launched on 28 August 2012 and set sail for sea trials in December 2012. The submarine was transfered to the Vietnamese Navy on November 7, 2013. On November 15 the SSK was loaded in St. Petersburg on the Dutch cargo ship Rolldock Sea for delivery to Vietnam. Rolldock Sea arrived in the Vietnamese naval base at Cam Ranh on December 31, 2013.
On January 16, 2014 at "Admiralty Shipyards" in St. Petersburg took place the signing of technical acceptance between Vietnamese Navy and the shipyard for the second submaine HQ-183 "Ho Chi Minh". "Ho Chi Minh" was laid on September 28, 2011 , launched on 28 December 2012 and started builder's sea trials in the summer of 2013.
It is reported that on January 19 submarine Ho Chi Minh sailed from St. Petersburg to Kaliningrad to be loaded onto a transport vessel for subsequent delivery to Vietnam. It is expected to arrive in Vietnam in early March 2014.
A Project 636 heavy diesel-electric submarine
According to Rosoboronexport, Project 636 proved highly effective while operated by naval forces of several countries.

Unparalleled in her technical and operational specifications, the ship is designed to conduct effective anti-sub warfare along with the capability to engage surface ships and coastal targets of potential adversary striking operations both independently or as part of a larger task force. Increased output of the main propulsion plant allowed to enhance significantly her submerged speed alongside with endurance range up to 7500 miles. Furthermore, she is one of the world's quietest diesel-electric submarines providing guaranteed early enemy detection and long-range attack as well as evasive maneuverability and concealment.

Outstanding fighting efficiency of the project 636 submarine is supported by the Club-S missile system, intended for engaging all types of surface, submerged and coastal targets with unrivalled 3M-54E cruise missiles in the background of active electronic and firing counter effort. Capable of striking targets 275 km away, the system considerably strengthens combat stability of the DE submarine when facing enemy countermeasures. Wide use of the Club-S cruise missile system may result in drastic change of the entire sea battle nature in favor of the owner.