a
Naval Industry News - USA
Future Multipurpose Amphibious Assault ship USS Tripoli (LHA 7) Keel Authenticated
The keel laying and authentication ceremony for the amphibious assault ship, the future USS Tripoli (LHA 7) was held at the Huntington Ingalls Industries Pascagoula shipyard June 20. Ship Sponsor Mrs. Lynne Mabus and retired Lt. Cmdr. Steve Senk, the chief engineer of the previous Tripoli (ex-USS Tripoli, LPH 10) served as the keel authenticators. The laying of the keel traditionally marked the first step in ship construction.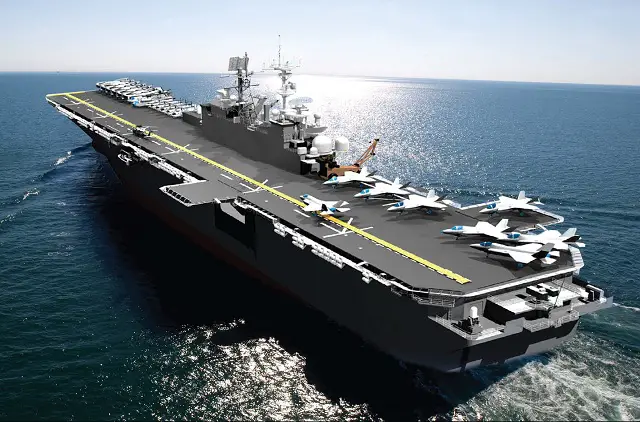 USS Tripoli (LHA 7), America class amphibious assault ships
(Picture: Huntington Ingalls Industries)
"We're honored to have Mrs. Mabus with us today to confirm the ship's keel is truly and fairly laid. Mrs. Mabus is a part of this ship's history and together we can look forward to many more ship milestones," said Capt. Christopher Mercer, Amphibious Warfare Program Manager within Program Executive Office, Ships. "This keel laying ceremony marks a significant first step in bringing shape to the Navy's next amphibious assault ship."
Like the recently delivered America (LHA 6), LHA 7 incorporates key components to provide the fleet with a more aviation centric platform. The design of the future Tripoli features an enlarged hangar deck, realignment and expansion of the aviation maintenance facilities, a significant increase in available stowage for parts and support equipment, and increased aviation fuel capacity. The ship will also be the first LHA replacement ship to deliver fully ready to integrate the entire future air combat element of the Marine Corps to include the Joint Strike Fighter.
"Like America, Tripoli boasts a very credible and capable aviation centric design that replaces the Tarawa class of amphibious assault ships," said Mercer. "The design brings with it increased capabilities and will maximize the Navy's investment in future aircraft."
Along with its pioneering aviation element, LHA 7 incorporates the fuel efficient gas turbine propulsion plant, zonal electrical distribution, and electric auxiliary systems first installed on USS Makin Island (LHD 8). LHA 7 will be 844 feet in length, will have a displacement of approximately 44,971 long tons, and will be capable of operating at speeds of over 20 knots.
"We look forward to working with the professional shipbuilders of Huntington Ingalls Industries as LHA 7 takes shape here in Pascagoula," said Capt. Joe Tuite, commanding officer of Supervisor of Shipbuilding Gulf Coast.
LHA 7 is the third Navy ship to be named Tripoli. The name honors and commemorates the force of U.S. Marines and approximately 370 soldiers from 11 other nationalities who captured the city of Derna, Libya during the 1805 Battle of Derna. The battle resulted in a subsequent peace treaty and the successful conclusion of the combined operations of the First Barbary War.