a
Naval Forces News - Japan
Japan Requested Aegis Combat System & Equipment Sale For New Class of Destroyer
The U.S. State Department gave its green light to Japan's planned $1.5 billion procurement of Lockheed Martin-built MK 7 Aegis combat systems and associated equipment for a new class of guided missile destroyers through the U.S.' foreign military sales program.
JMSDF guided-missile destroyer JDS Atago (DDG 177). Picture: US Navy
According to the US Defense Security Cooperation Agency: The Government of Japan has requested a possible sale of two (2) ship sets of the MK 7 AEGIS Weapon System, AN/SQQ-89A (v) 15J UWS and CEC. Additional items include associated equipment, training and support for its Japan Fiscal Year (JFY) 2015 and JFY2016 new construction destroyers (DDGs). The ACS and associated support will be procured over a six (6) to seven (7) year period, as approved by Japan in budgets for JFY2015 and JFY2016. The estimated value of this proposed sale is $1.5 billion.

The ACS/UWS/CEC support ship construction for a new ship class of DDGs based upon a modified Atago-class hull (Ship class not yet named) and a new propulsion system. The equipment and services to be provided include: two (2) ship sets of installation support material and special purpose test equipment, as well as the systems engineering, technical services, on-site vendor assistance, spare parts, systems training and staging services necessary to support ship construction and delivery.

Atago class
In 2000, the Japan Defense Agency Maritime Staff Office included another two Aegis ships in its five-year budget on top of the four Kongo class destroyers originally ordered. The Atago class is fundamentally an improved and larger version of Kongo class destroyers. The vessels have all of the armament of the Kongo class but received a hangar space for to accomodate two SH-60 helicopters. Atago class destroyers displace 10,000 tons full load. JDS Atego DD178, was commissioned in 2007 and JDS Ashigara DD-178 was commissioned in 2008.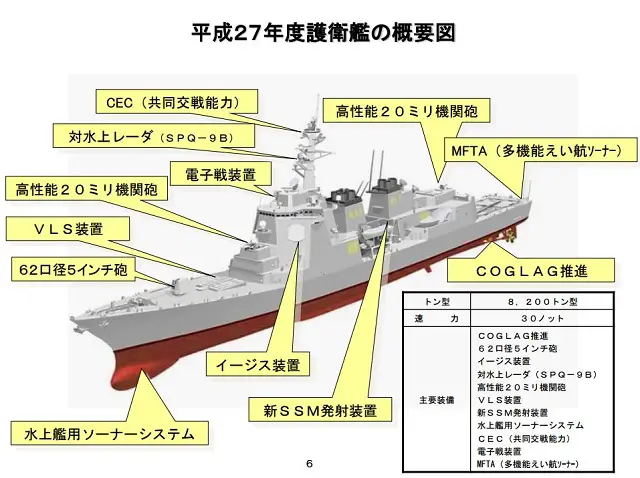 27DD AEGIS Guided Missile Destroyer technical specifications and layout
The US DSCA release also mentions:
Japan continues to modernize its fleet to support Integrated Air and Missile Defense (IAMD) roles and special mission requirements. The addition of two (2) new AEGIS DDGs will fulfill Japan's mission goal of acquiring eight (8) ballistic missile defense capable ships and will further enhance interoperability with the U.S. Navy, build upon a longstanding cooperative effort with the United States, and provide enhanced capability with a valued partner in a geographic region of critical importance to Japan and the U.S. Government.


27DD Guided Missile Destroyer
Navy Recognition
believes the Aegis system and equipment request by Japan is for the future 27DD destroyer of the Japan Maritime Self-Defense Force (JMSDF).
Follow this link to read our detailed article we recently published on 27DD