a
Naval Defense Industry News - KRET Press Release
Russian Ka-52K Katran Ship-Borne Helicopter Fitted with Okhotnik Targeting System by KRET
The ship-based Ka-52K is equipped with the Okhotnik video processing system developed by KRET. The Okhotnik system will increase the range of target recognition one and a half times.

Russian Navy's new Ka-52K Hokum B Naval Attack Helicopter during its first test flight

The latest Russian combat helicopter the Ka-52K Katran, created for the Mistral helicopter carrier, is capable of identifying targets at a distance one and a half times farther than the Ka-52 Alligator, said Igor Nasenkov, first deputy CEO of KRET.

Okhotnik enables a 1.2-1.5 times increased range of detection and recognition, as well as a greater duration of its TV channel. The presence of an autotracking function stabilizes the video field on the target and transmits a digital error code if the display coordinates do not match the line of sight," said Igor Nasenkov.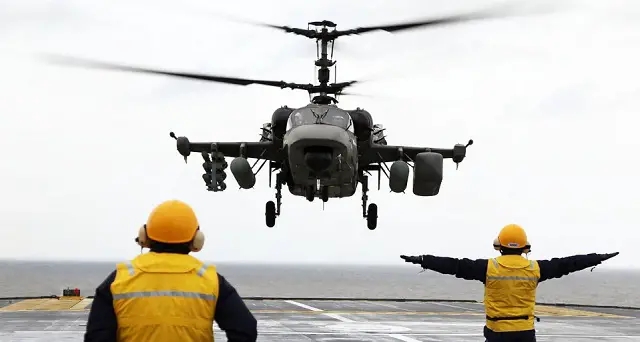 The navalised version of the Alligator features a folding rotor head and folding stub-wings.
Image: KRET

KRET produces a range of systems for the Ka-52K, including the highly complex onboard Vitebsk defense system, the GOES-451 gyro-stabilized optoelectronic station, the Arbalet radar system, a laser-beam weapons guidance system, and the SAU-800 automatic control system.

"SAU-800 enables a helicopter to be piloted in manual, automated, and automatic control mode. ACS-800 is integrated with the SIVPV-52 data recording and processing system, allowing the pilot to concentrate on the use of weapons," said Igor Nasenkov.

KRET's developments enable the Ka-52K to "effectively carry out combat missions in all weather conditions and at any time. This helicopter's possibilities extend far beyond just supporting troops," he said.

"For example, thanks to KRET's radar system developments, the helicopter can detect large enemy ships at a distance of 200 km and attack them with X-31 (KH-31) and X-35 (KH-35) missiles. This makes the helicopter much more similar to carrier-based Su-33 and MiG-29K aircraft," said Igor Nasenkov.

As noted earlier by Andrey Boginsky, Russian Deputy Minister of Industry and Trade, work on the Ka-52K has entered its final stage. In addition, he stressed that the fate of the helicopter does not depend on the supply of the Mistral helicopter carrier. "In regard to where this helicopter will be based, we have a large number of maritime boundaries, so there will not be any issues," said Andrey Boginsky.