a
Naval Defense News - USA
Lockheed Martin LRASM Anti-Ship Missile Completes Third Flight Test

The Long Range Anti-Ship Missile (LRASM) built by Lockheed Martin achieved a third successful air-launched flight test, with the missile performing as expected during low altitude flight. The test, conducted on Feb. 4, was in support of the Defense Advanced Research Projects Agency (DARPA), U.S. Air Force and U.S. Navy joint-service LRASM program.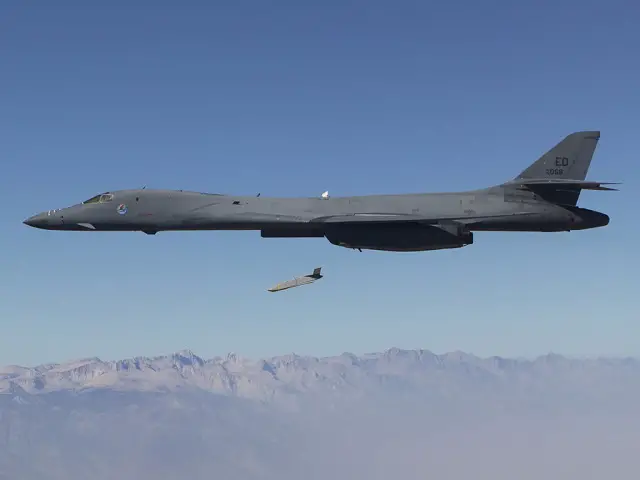 Flying over the Sea Range at Point Mugu, California, a U.S. Air Force B-1B bomber from the 337th Test and Evaluation Squadron at Dyess Air Force Base, Texas, released the LRASM prototype, which navigated through planned waypoints receiving in-flight targeting updates from the weapon data link. (File picture)
"LRASM continues to prove its maturity and capabilities in this flight test program," said Mike Fleming, LRASM air launch program director at Lockheed Martin Missiles and Fire Control. "This much-needed weapon seeks to provide a new capability that would enable deep strike in previously denied battle environments."
LRASM is a precision-guided anti-ship standoff missile leveraging the successful Joint Air-to-Surface Standoff Missile Extended Range (JASSM-ER) heritage, and is designed to meet the needs of U.S. Navy and Air Force warfighters in a robust anti-access/area-denial threat environment. JASSM-ER, which recently completed its operational test program, provides a significant number of parts and assembly-process synergies with LRASM, resulting in cost savings for the U.S. Navy and Air Force Offensive Anti-Surface Warfare programs.
The tactically representative LRASM is built on the same award-winning production line in Pike County, Alabama, as JASSM-ER, demonstrating manufacturing and technology readiness levels sufficient to enter the engineering, manufacturing and development phase and to meet urgent operational needs.
To learn more: Link to
LRASM Long Range Anti-Ship Missile technical datasheet