a
Naval Defense Industry News - USA
General Atomics Awarded Production Contract for EMALS & AAG Systems for Future CVN 79

General Atomics (GA) was awarded an undefinitized contract action for the production of the Electromagnetic Aircraft Launch System (EMALS) and Advanced Arresting Gear (AAG) for the future CVN 79 aircraft carrier to be named John F. Kennedy. This contract is for the production of equipment to support installation of EMALS and AAG into CVN 79, the second of the Gerald R. Ford-class aircraft carriers. CVN 79 is scheduled to be delivered to the U.S. Navy in 2022.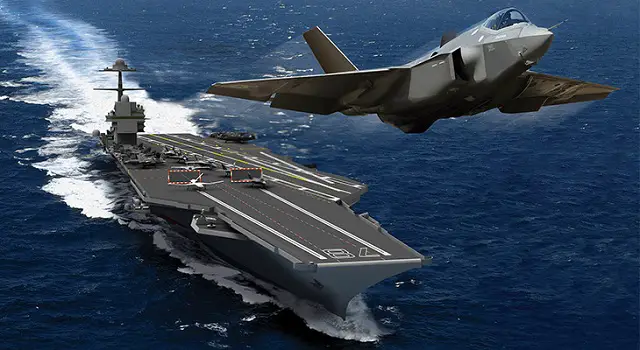 Electromagnetic Aircraft Launch System (EMALS) was fitted first onboard head of class USS Gerald R. Ford. Picture: General Atomics

"General Atomics is proud to be delivering this transformational technology to the Unites States Navy, now on the second ship in the Ford-class aircraft carrier, the John F. Kennedy (CVN 79)", said Dean Key, the Director of Launch and Recovery Production Programs at GA's Electromagnetic Systems Group. "This is a great opportunity and GA has a great team assembled whose talents developing a first-of-kind system on the CVN 78 will allow us to pay that expertise forward for the CVN 79."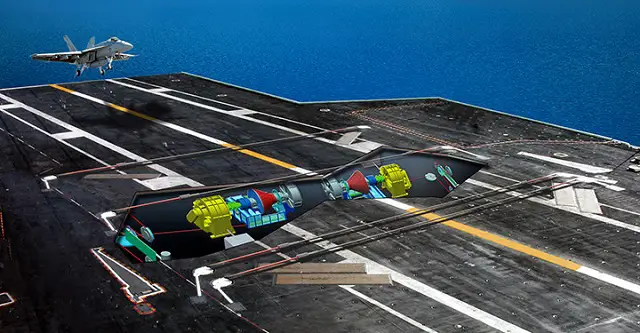 The Advanced Arresting Gear (AAG) program will supply Navy aircraft carriers with an electric motor based system that will replace the current MK 7 hydraulic system for aircraft deceleration during recovery operations. AAG allows arrestment of a broader range of aircraft, reduces manning and maintenance, and provides higher reliability and safety margins. GA's design replaces the mechanical hydraulic ram with rotary engines using simple, proven energy-absorbing water turbines coupled to a large induction motor, providing fine control of the arresting forces. Picture: General Atomics

Over 70% of the contracted work including manufacturing, engineering, design and program management will be executed by the Electromagnetic Systems Group of GA. The majority of manufacturing will take place in GA's Tupelo, Miss. manufacturing facility. The remaining component manufacturing efforts will be subcontracted to vendors across the United States. Production hardware is expected to commence delivery to the Huntington Ingalls Industries shipyard located in Newport News, Virginia starting in the spring of 2017.

GA was awarded the prime contract to provide EMALS and AAG systems for CVN 78 in June 2009. Final hardware delivery to CVN 78 will be completed in July 2015. On June 5, the first dead loads were successfully launched off of CVN 78 as part of the EMALS shipboard system testing and certification.