a
Naval Forces News - Egypt
Russia continues consultations on Ka-52K Katran helicopters with Egypt
Russia continues consultations on Kamov Ka-52K (NATO reporting name: Hokum-B) shipborne helicopters with Egypt, CEO of Russia's Rosoboronexport state arms seller Alexander Mikheyev said.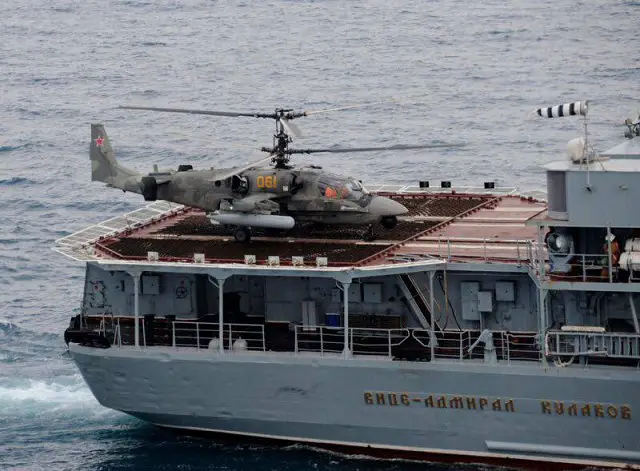 Ka-52K Katran naval helicopter during trials aboard Udaloy-class ASW destroyer Vitse-Admiral Kulakov. Picture via @RSS_40
"Consultations are under way," Mikheyev said. A lot of issues, including the layout and the number, are being discussed, he added.

The timeframe has not been set yet and talks are in progress, Mikheyev said. It was reported earlier that Russia had won the tender for the delivery of Kamov Ka-52K helicopters for Egypt's Mistral-class amphibious assault ships.

It was also reported that pilots of Kamov Ka-52K helicopters designed for the Egyptian Mistral-class amphibious assault ships would undergo training in Russia.

Baseline Ka-52 helicopters are currently being built by the Progress Aircraft Plant in Arsenyev in Russia's Far East under the contract for the delivery of 46 rotorcraft of the type, which was signed in 2015.

The Ka-52K Katran attack helicopter is a ship-based version of the baseline Ka-52. Unlike the baseline model, the Ka-52K has folding main rotor blades and folding stub wings. The helicopter has reinforced landing gear and can fire anti-ship missiles and a wide range of other guided and unguided air-launched weapons.

In the winter of 2016-2017, helicopters of the type took part in the counterterrorism operation in Syria as part of the air wing of Russia's aircraft carrier Admiral Kuznetsov.



© Copyright 2017 TASS. All rights reserved. This material may not be published, broadcast, rewritten or redistributed.