US Navy NAVAIR Briefed French Navy on EMALS and AAG for Aircraft Carriers
| | |
| --- | --- |
| | Representatives from the French (Marine Nationale) and U.S. navies met to discuss interoperability during a site visit to the Naval Air Warfare Center Aircraft Division (NAWCAD) on the Lakehurst side of base July 12. Members of the France/U.S. Senior Acquisition Review / Senior National Naval Representative (SAR/SNNR) team met to review action items and present briefings as part of an ongoing partnership between the two nations. |
a
Naval Forces News - France, USA
US Navy NAVAIR Briefed French Navy on EMALS and AAG for Aircraft Carriers
Representatives from the French (Marine Nationale) and U.S. navies met to discuss interoperability during a site visit to the Naval Air Warfare Center Aircraft Division (NAWCAD) on the Lakehurst side of base July 12. Members of the France/U.S. Senior Acquisition Review / Senior National Naval Representative (SAR/SNNR) team met to review action items and present briefings as part of an ongoing partnership between the two nations.
Members of the France/U.S. Senior Acquisition Review / Senior National Naval Representative (SAR/SNNR) team visited NAWCAD Lakehurst at Joint Base McGuire-Dix-Lakehurst, N.J. July 12. (U.S. Navy Photo)

Naval Air Systems Command (NAVAIR) Support Equipment and Aircraft Launch and Recovery Equipment (ALRE/SE) Department Director Kathleen P. Donnelly led a team welcoming the visitors. Other NAVAIR leaders included Capt. Bradley Kidwell, NAVAIR ALRE/SE military director, and Mauricio Borrero, NAVAIR Lakehurst site lead and head of Program Management.

In addition to SAR/SNNR briefings and discussions, the visitors received a NAVAIR Lakehurst overview from Borrero, virtual reality demonstration from Space and Naval Warfare Systems Command representatives, and a brief on the Electromagnetic Aircraft Launch System (EMALS) and Advanced Arresting Gear (AAG). The group also visited the land-based EMALS test site at Lakehurst.

Senior representatives visiting included French navy Brig. Gen. Christian Dugué, head of Naval System Architecture, and Capt. Francois Moreau, head of Joint Programs Consistency; Dr. Walter Jones, executive director of the Office of Naval Research; Steve Bowden, Navy International Programs Office (NIPO) director of Technology Security and Cooperative Programs; and Shala Malone, OPNAV N94 director, Senior National Representative Office.

"This is a perfect time for us to come visit your place," said Brig. Gen. Dugue. "We want the interoperability to go on in working with your Navy."
Video: General Atomics EMALS and AAG at Sea Air Space 2017.
The Electromagnetic Aircraft Launch System (EMALS) is designed to replace steam catapult system currently used on U.S. Navy aircraft carriers. Gerald R. Ford (CVN 78) is the first carrier to use EMALS. Due to its flexible architecture, the electromagnetic aircraft launch system can launch a wide variety of aircraft weights and can be used on a variety of platforms with differing catapult configurations.

The electric motor-based Advanced Arresting Gear (AAG) system provides for aircraft deceleration during aircraft carrier recovery operations. AAG allows for arrestment of a broad range of aircraft, reducing manning and maintenance, and provides higher reliability and safety margins. AAG's design uses simple, proven energy-absorbing water turbines coupled to a large induction motor for fine control of the arresting forces.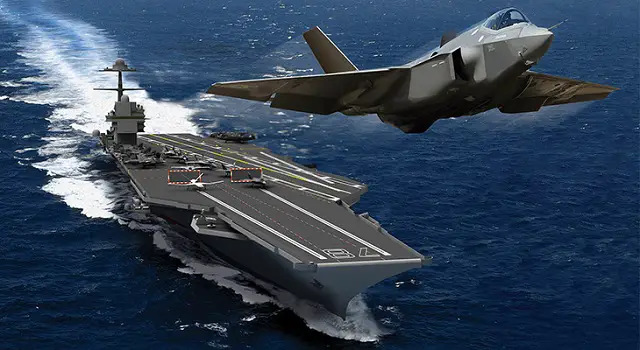 Electromagnetic Aircraft Launch System (EMALS) was fitted first onboard head of class USS Gerald R. Ford. Picture: General Atomics

Comment
During Euronaval 2016, General Atomics and DCNS (now Naval Group) had discussions about EMALS and AAG for both the future French Navy (Marine Nationale) needs and export prospects of DCNS aircraft carrier design. In addition, we learned that DCNS CEO Hervé Guillou would visit General Atomics in San Diego. During Sea-Air-Space 2017, Rear Admiral Chaineau, in charge of French Navy future programs, was at the head of a delegation which was briefed by General Atomics on EMALS and AAG.

We learned more recently during the Paris Air Show 2017 that a contract for "early studies" on a possible Charles de Gaulle aircraft carrier replacement programme is hoped to be awarded by the end of 2017. This would allow a future French aircraft carrier to be ready in the time for the next major refit of Charles de Gaulle, set for 2027 (the first one, dubbed ATM was conducted in 2007 and the second, mid-life one, is currently taking place). Any sutdies contract award past 2018 would make the schedule very tight to have a carrier replacement (formerly known as "PA2" for Porte Avions 2 or aircraft carrier 2) ready in time. For comparison, HMS Queen Elizabeth keel was laid in July 2009 and the aircraft carrier just started sea trials, eight years later.

It has to be notted that a cycle of about 10 years is valid only for a conventional carrier only. A nuclear powered aircraft carrier would take a longer cycle to design, develop and built. According to La Cordeliere, Emmanuel Macron as presidential candidate spoke of the rapid launch of studies on a new aircraft carrier so that it would be ready before Charles de Gaulle decommissioning by 2040.

"PA2" studies were conducted from 2009 but eventually dropped around 2013. It is not clear wether some of these study works could be re-used 5 years later...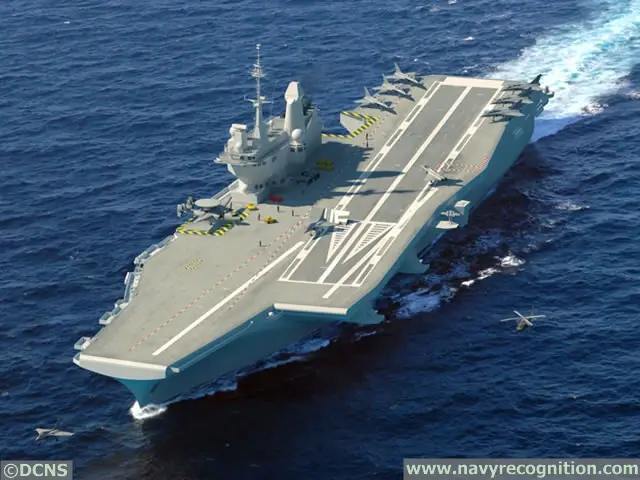 Naval Group (Formerly DCNS) Evolved Aircraft Carrier (DEAC). This design could be a potential candidate for the (yet to be started) Charles de Gaulle
aircraft carrier replacement programme. This design is also being offered to India.

The aircraft carrier replacement is a sensitive topic in France, but the recent exchanges and briefings on EMALS show that both the industry and French Navy are confident a replacement programme could eventually go ahead. As far as EMALS are concerned, General Atomics expects the next step will be discussions between the French government and the US government about exportability, but with India getting cleared, export approval should not be an issue for France. General Atomics explained to us that both technologies are platform independent: AAG and EMALS will work on large or smaller carriers, nuclear or conventionally powered.

General Atomics and Naval Groups are in talks regarding the Indian Navy IAC-2 program as well. The "indigenous aircraft carrier number 2" program is an Indian Ministry of Defence (MoD) project to build a 65,000-tonne aircraft carrier for the Indian Navy. In July 2015, a Letter of Request (LoR) was sent to at least four companies: BAE Systems, DCNS, Lockheed Maritn and Rosoboronexport. EMALS and AAG would likely be fitted on the American, French and British (if CATOBAR configuration is retained) carrier designs.