---
Elbit Systems announced today that it was awarded an approximately $85 million contract from the Israeli Ministry of Defense (IMOD) to supply Electronic Warfare (EW) suites for the Israeli Navy Sa'ar 6-class corvettes that will be tasked with the protection of Israel's Economic Exclusion Zone. The contract will be performed over a 10-year period.
---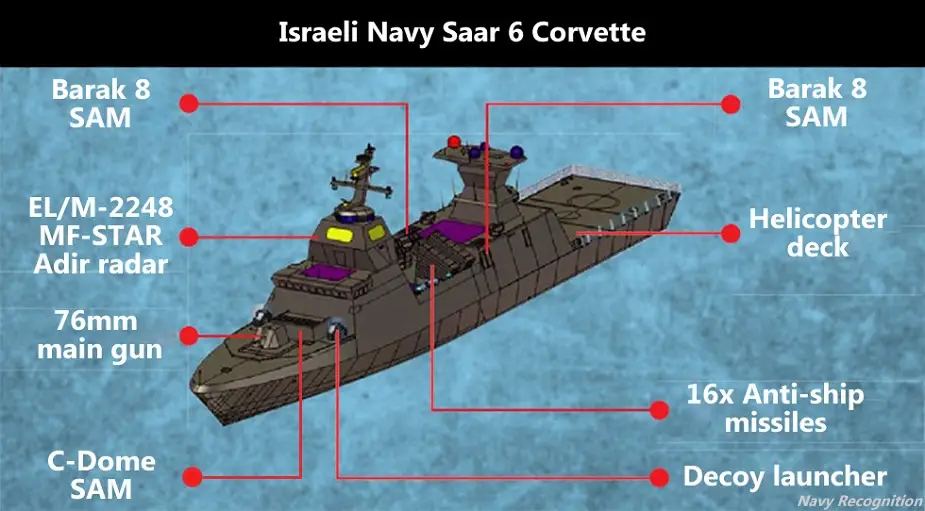 infographics on the Saar 6

---
The EW systems to be supplied are combat proven and include digital receivers, signal processing technologies and analysis tools that are all of an open system architecture, thus enabling effective operational capabilities while maintaining flexibility to cope with both current and future threats. The latest configurations of those technologies were developed in close cooperation with the IMOD's Administration for the Development of Weapons and Technological Infrastructure and with the Israeli Navy, and have been recently declared operational after successfully completing intensive sea trials. This award follows previous Elbit Systems contract awards to equip all the Israeli Navy surface vessels with the Company's advanced EW technologies.
Edgar Maimon, Executive Vice President and General Manager of Elbit Systems EW and SIGINT - Elisra, commented: "We are proud to continue to be the EW house of the Israeli Navy and to have been awarded this contract to equip the new corvettes with the sophisticated EW capabilities necessary to perform a variety of complex missions while maintaining maximal level of force protection. The increasing demand for our EW solutions is a clear indication for the growing operational importance of advanced and combat proven EW capabilities in all domains of operational engagement - maritime, land and air."
---
Israeli Navy animation

---
Comment about Saar 6
The Saar 6 class was developed from the German MEKO A100 base (and variations for the German Navy K130 corvettes). The Saar 6 vessels will not just be "Patrol Vessels" as initially reported but rather powerful Corvettes with a displacement in excess of 2,000 tons and a length of 90 meters.The width of the class is 13.5 meters and its draft is more than 4 meters. Their maximum speed is 26 knots thanks to their diesel power plant and dual-shaft arrangement. The crew complement is about 70 sailors.
Saar 6 class corvettes will be heavily armed for their size: They are set to be fitted with:
- 32x VLS cells for Barak 8 surface to air missile system by Israel Aerospace Industries (IAI)
- 2x C-DOME naval point defense system launchers by Rafael (20x Tamir missiles in each launcher for a total of 40x per ship)
- 16x anti-ship missiles (Boeing Harpoon Block 2 or Israel's IAI Gabriel Mk 5)
- 1x 76mm Oto Melara Super Rapid main gun
- 2x Typhoon 25mm remote weapon stations by Rafael (likely able to launch Spike-ER missiles as well)
- 2x 324mm torpedo launchers for MK54 Lightweight Torpedo by Raytheon

The main sensor system aboard the Saar 6 will be the MF-STAR multifunction AESA radar by IAI. Saar 6 corvettes will have hangar space and platform able to accommodate a medium class (SH-60 type) helicopter.
---