a
Naval Forces News - USA
USNS Montford Point mobile landing platform ship Successfully Completes Acceptance Trials
The U.S. Navy's first Mobile Landing Platform, USNS Montford Point (MLP) 1, successfully completed Acceptance Trials on April 19, in San Diego, Calif. Built by General Dynamics-NASSCO, MLP is a highly flexible platform that will provide capability for large-scale logistics movements such as the transfer of vehicles and equipment from sea to shore.

The Military Sealift Command mobile landing platform ship USNS Montford Point (T-MLP 1) is floated out of General Dynamics NASSCO shipyard. (U.S. Navy photo courtesy of General Dynamics NASSCO/Released)

The Navy's Board of Inspection and Survey (INSURV) found the ship to be well-built and inspection-ready. The trials evaluated the ship's major systems and equipment to include a full power run, ballasting, and demonstrations of the ship's control, navigation, and communication systems.

"MLP 1 performed extremely well during these trials with no major issues or deficiencies identified. This is an unprecedented result for a first-of-class ship and is a testament to the dedication, preparation and effort of the entire Navy-Industry shipbuilding team," said Capt. Henry Stevens, PEO Ships' program manager for Strategic and Theater Sealift. "This ship will deliver exceptional capability and flexibility to the Fleet, supporting a broad range of military operations."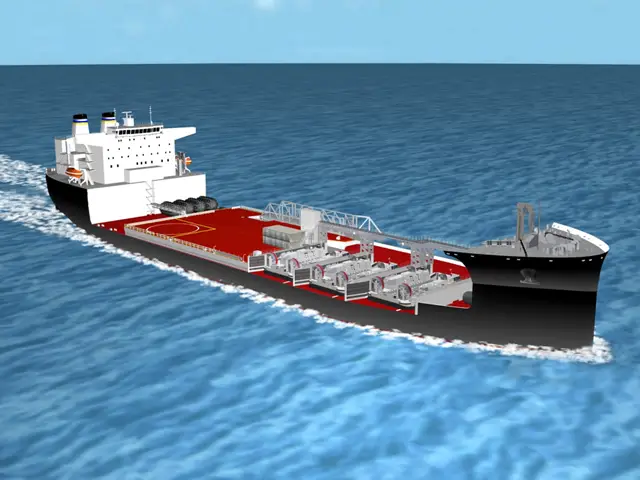 An artist concept of a mobile landing platform (MLP) ship
(Image: US Navy)

Acceptance trials represent the cumulative efforts following a series of in-port and underway inspections conducted jointly by the MLP Program Office, SUPSHIP Bath - San Diego detachment, INSURV and, GD-NASSCO, throughout the build, test and trials process. The trials are the last significant shipbuilding milestone before delivery of the ship to the Navy, expected to occur later this spring.

The 83,000 ton, 785-foot ship will leverage float-on/float-off technology, allowing Montford Point to partially submerge, facilitating easy movement of cargo and craft. Additionally, the ship's size allows for 25,000 square feet of vehicle and equipment stowage space and 380,000 gallons of JP-5 fuel storage.

With this set of capabilities, the ship is able to easily transfer personnel and vehicles from other vessels such as the large, medium-speed, roll-on/roll-off ships (LMSRs) onto landing craft air cushioned (LCAC) vehicles and transport them ashore. The platform's open, reconfigurable mission deck will serve as an important flexible and transformational asset to the Navy as it can be reconfigured to support a wide variety of future operations.

Acting as a mobile seabase, MLP will be part of the critical access infrastructure that supports the deployment of forces and supplies to provide prepositioned equipment and supplies with flexible distribution.

As one of the Defense Department's largest acquisition organizations, PEO Ships is responsible for executing the development and procurement of all destroyers, amphibious ships, special mission and support ships, and special warfare craft. Delivering high-quality war fighting assets - while balancing affordability and capability - is key to supporting the Navy's Maritime Strategy.

from : Naval Sea Systems Command Office of Corporate Communications