a
Naval Forces News - India
Indian Navy Commissions First MiG-29K Fighter Squadron for its Aircraft Carrier
The Indian Navy has commissioned its first squadron of MiG-29K/KUB shipborne fighters, dubbed the "Black Panthers," a MiG spokesperson in India said on Saturday. The ceremony at an airbase in Dabolim, in the state of Goa on India's west coast, was attended by India's Defense Minister A K Antony, Chief of Naval Staff Admiral D K Joshi and MiG Director-General Sergei Korotkov.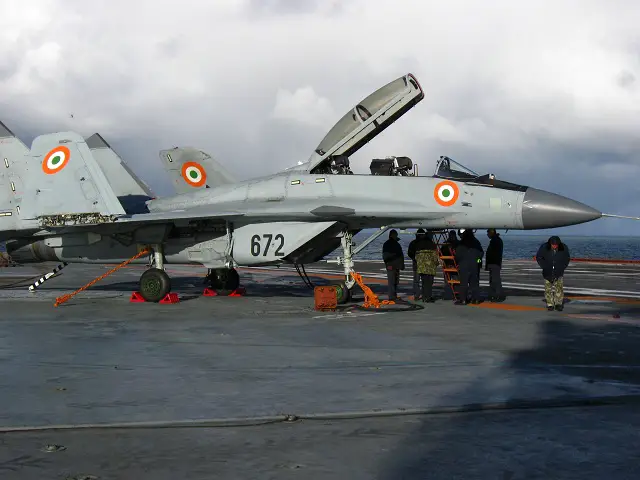 MiG-29KUB during sea trials onboard Admiral Kuznetsov
(picture: Alexey Polyakov/MiG)
The squadron comprises 12 single-seat MiG-29Ks and four two-seat MiG-29KUBs, which Russia supplied under the 2004 contract with the Indian Defense Ministry.

India's Naval officials said MiG-29K fighters, once integrated with aircraft carrier INS Vikramaditya, will "bolster the Navy's punch with its multi-role capability," according to the Asian News International (ANI).

The Vikramaditya, formerly the Russian Navy's Admiral Gorshkov, is to be handed over to India after the trials after a much-delayed refit.

The ship was extensively modified to undertake STOBAR (short takeoff but assisted recovery) operations with MiG-29K naval fighter aircraft, as well as receiving new air defense, communications and navigations systems.