a
Naval Forces News - China
New China Coast Guard patol vessel enters service amid tensions around Senkaku islands
A newly built patrol vessel was commissioned for the China Coast Guard (CCG) South China Sea fleet on Friday. The CCG-3401, with a displacement of 4,000 tonnes, is a multi-functional vessel equipped with advanced law enforcement facilities and is able to meet the need for marine law enforcement tasks, according to the Chinese State Oceanic Administration.

The ship will play an important role in reinforcing China's administration of sea waters under its sovereignty, the administration said.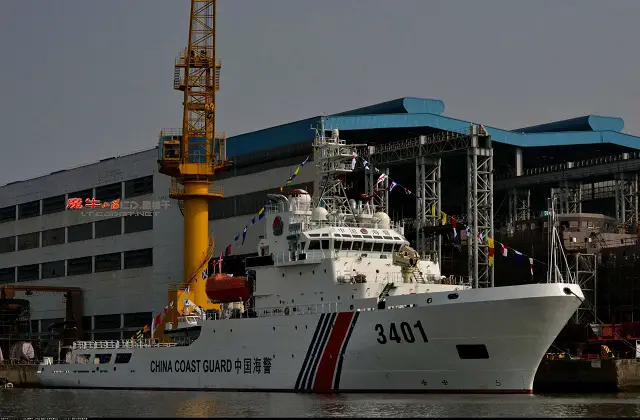 China Coast Guard new 4,000 tonnes Patrol Vessel (CCG-3401)

Meanwhile, Japan's defence minister has vowed to defend the country's territory after three Chinese government ships entered disputed waters off Tokyo-controlled islands in the East China Sea.
The Chinese coastguard vessels sailed at about 8:30 am local time on Sunday into territorial waters off one of the Senkaku islands, which China also claims and calls the Diaoyus, Japan's coastguard said. The ships left less than two hours later.

"We can never overlook repeated incursions into territorial waters," Japanese Defence Minister Itsunori Onodera told reporters.