a
Defense Industry News - USA
US Missile Defense Agency awards Raytheon with $156 million SM-3 contract
The Missile Defense Agency awarded Raytheon Company an undefinitized contract action (UCA) valued at $156 million for the procurement of Standard Missile-3 Block IB guided missiles. The SM-3 missile is designed to destroy incoming short-, medium-, and intermediate-range ballistic missile threats by colliding with them in space, a concept sometimes described as "hitting a bullet with a bullet." More than 155 SM-3s have been delivered to the U.S. and Japan. The SM-3 Block IB will be deployed at sea and on land.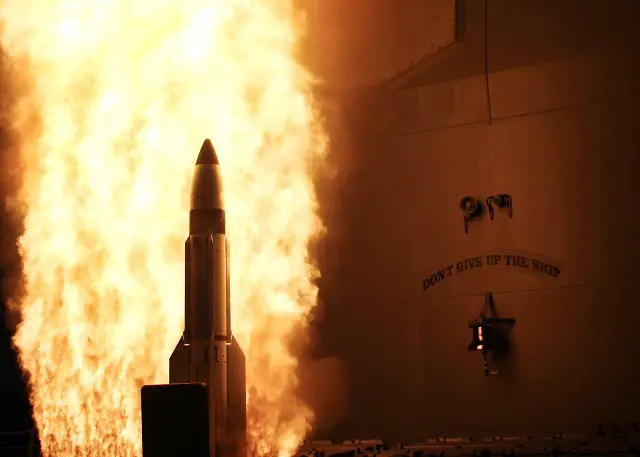 A SM-3 Launches from USS Lake Erie during a test
(File Picture: US Navy)

Fiscal year 2014 Defense wide procurement funds will be used to fund this effort; the work will be performed in Tucson, Ariz., and Huntsville, Ala., through September 2016.

PACIFIC OCEAN (May 15, 2013) A Standard Missile-3 (SM-3) Block 1B interceptor missile is launched from the guided-missile cruiser USS Lake Erie (CG 70) during a Missile Defense Agency and U.S. Navy test in the mid-Pacific. The SM-3 Block 1B successfully intercepted a target missile that had been launched from the Pacific Missile Range Facility at Barking Sands in Kauai, Hawaii. Lake Erie detected and tracked the target with its onboard AN/SPY-1 radar. The event was the third consecutive successful intercept test of the SM-3 Block IB missile. (U.S. Navy photo/Released)

About the Standard Missile-3
The SM-3 does not contain an explosive warhead, but instead destroys the threats using sheer impact, equivalent to a 10-ton truck traveling at 600 mph.

» More than 155 SM-3s have been delivered ahead of schedule and under cost.
» Raytheon is on track to deliver the next-generation SM-3 Block IB in 2015.
» SM-3 Block IB will be deployed in both sea-based and land-based modes.