a
Naval Industry News - Netherlands, Indonesia
Damen (DSNS) starts steel cutting for SIGMA 10514 PKR Frigate for Indonesia Navy (TNI AL)
In June 2012, the Ministry of Defence of Indonesia and Damen Schelde Naval Shipbuilding (DSNS) signed the contract for the first
SIGMA 10514 PKR Frigate
. In accordance with the agreed planning for the construction of this frigate, the Steel Cutting Ceremony took place simultaneously on 15 January 2014 at PT PAL (Persero) Shipyard in Surabaya (Indonesia) and DSNS in Vlissingen (the Netherlands).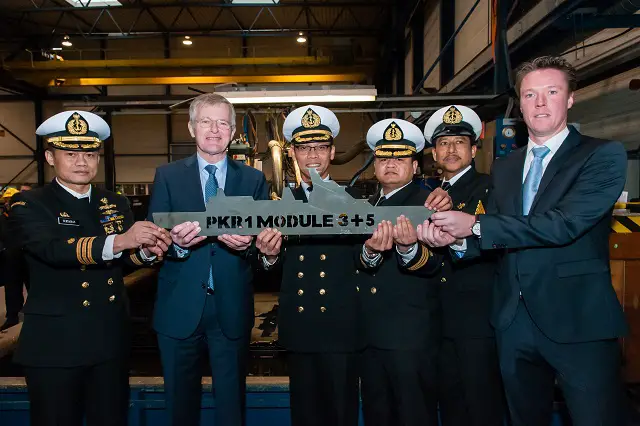 The steelcutting of modules 3 and 5 of PKR1. FLTR: Ltcol. Suryaman, Mr. Hans Spaans (Director Naval Sales Support DSNS), Col. Edy Sulistyady (Indonesian Defence Attaché (Guest of Honeur)), Maj. Fatchur Rohman, Petty Officer Hendriyanto, Mr. Jeffrey Vader (Manager Production DSNS).
DSNS will build two modules and subsequently ship them to the yard in Surabaya. The simultaneous construction and testing of the modules at two different locations signifies the unique modular building strategy of Damen Schelde Naval Shipbuilding; a method unparalleled in the naval shipbuilding industry.

All modules will be assembled at the PT PAL(Persero) Shipyard under main contractorship of DSNS followed by Harbour Acceptance Tests and Sea Acceptance Trials.

SIGMA 10514 Guided Missile Frigate
(Photo: Damen Schelde Naval Shipbuilding)
Second Frigate
The engineering process for the second SIGMA 10514 PKR frigate, for which the contract was signed 14 February 2014, proceeds as scheduled and construction is foreseen to start in approximately 6 months.
Scope
The acquisition of the SIGMA 10514 PKR Frigate is part of the further modernization and expansion of the Indonesian Navy, TNI-AL. The main missions and tasks of the SIGMA PKR 10514 will be in the domains of naval warfare as well as Maritime Security missions and tasks. Also, the vessel may be used for humanitarian support tasks.

Link to SIGMA 10514 PKR Frigate technical datasheet