a
Freedom class Littoral Combat Ship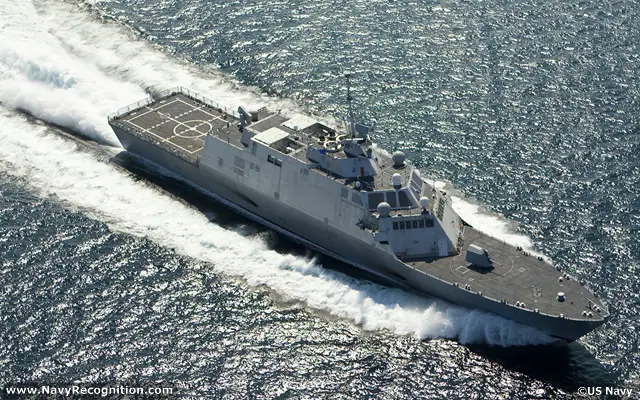 The Freedom class of littoral combat ships (LCS) is Lockheed Martin's design proposal to the US Navy's requirement for the LCS class ships. The LCS concept emphasizes speed and modularity thanks to its flexible mission module spaces. According to US Navy, the LCS is "envisioned to be a networked, agile, stealthy surface combatant capable of defeating anti-access and asymmetric threats in the littorals."

To meet changing warfare needs, the Lockheed Martin design incorporates large reconfigurable paces, an integrated launch, recovery and handling system, a large flight deck certified to Level I Class I and mission flexibility through rapid change-out of mission modules and support equipment. Freedom class ships incorporate semi-planing monohull that combines high speeds (>47 knots), payload and range to provide flexibiility in executing the full spectrum of LCS missions. Optimized for watercraft launch and recovery, Lockheed Martin's design includes stern and side launch apability near the waterline and an integrated command and control system to support mission module operation.
The Freedom class design also integrates non-developmental sensors and weapons systems, providing proven technologies for combat power and mission flexibility, as well as a robust, layered self-defense system. These solutions offer a flexible, survivable warship for littoral operations with inherent margin for capability growth.

The head of class, USS Freedom (LCS 1) was delivered to the U.S. Navy in 2008 and deployed two years early. She completed her maiden deployment in 2010 and participated in the world's largest international maritime exercise, know as RIMPAC 2010. USS Freedom's design meets all requirements and has completed sea trials, helicopter landings, weapons firings, small boat launch and recovery testing.
Second ship of the Freedom class, USS Fort Worth (LCS-3) was launched in December 2010.

In total, ten Freedom class LCS are to be built, at a rate of 2 per year until 2015.

Shiplist
| | |
| --- | --- |
| Name | Hull Number |
| USS Freedom | LCS 1 |
| USS Fort Worth | LCS 3 |
| USS Milwaukee | LCS 5 |
| USS Detroit | LCS 7 |
| USS Little Rock | LCS 9 |
| USS Sioux City | LCS 11 |
Variants
Surface Combat Ship: Export variant of LCS with Lockheed Martin's Agile Management System (LMACS) and customizable components such as AEGIS, MK41 VLS, Oto Melara 76mm, Millenium 35mm, Phalanx guns, Anti-ship missiles, Sonars, EW systems... depending on customer needs.

Technical Data

Back to top
Design
Advanced semi-planing steel monohull. Sloped aluminum superstructures . Large reconfigurable spaces. Integrated launch, recovery and handling system. Large flight deck. Modular weapon zone.
Can be reconfigured for various roles by changing mission modules.
Weapons
Anti-ship missiles:
45x NLOS missiles (ASuW mission module)

Anti-air missiles:
21x RIM-116 RAM block A1

Guns:
BAE Systems Mk 110 57 mm (main gun)
2x Mk44 Bushmaster II 30mm guns
4x .50-cal machine guns
Sensors, Electronics and Decoys
EADS TRS-3D 3D air and surface search radar
Lockheed Martin COMBATSS-21 combat management system
Thales Captas 4249 low frequency active variable depth sonar (LFA-VDS)
Argon ST WBR-2000 ESM system
Terma A/S SKWS decoy system
Propulsion
Combined diesel and gas turbine with steerable waterjet propulsion.
Specifications

Back to top
Type

Littoral Combat Ship

Crew

Less than 50
(accomodations for 75)


Operators

US Navy.
Surface Combat Ship version available for export.

Performance

Top Speed: 47+ kts
Range: 3,500 nm @ 18 kts
Endurance: 21 days

Displacement

3,000 tons

Engines

2 Rolls-Royce MT30 36 MW gas turbines, 2 Colt-Pielstick diesel engines, 4 Rolls-Royce waterjets.

Aircraft

Hangar for 2 mid-size helicopters (10 tons class) or 1 mid-size helicopter + 3 VTUAV.

Dimensions

Length: 115 m
Breadth: 17.5 m
Maximum Draft: 4 m


Back to top
All pictures © US Navy