a
| | | |
| --- | --- | --- |
| | Rafael Naval Maritime Defence Industry | |
a
Business sector
Rafael Advanced Defense Systems Ltd, designs, develops, manufactures and supplies a wide range of high-tech defense systems for air, land, sea and space applications.

Rafael was established as part of the Ministry of Defense more than 50 years ago and was incorporated in 2002. Currently, 7% of its sales are invested in R&D. Rafael's know-how is embedded in almost all Israel Defense Forces (IDF) systems in operation today. The company has a special relationship with the IDF, developing products according to the soldiers' specific requirements in the field. Rafael has also formed partnerships with civilian counterparts to develop commercial applications based on its proprietary technology.

Rafael is a steadily growing company with sales in 2010 exceeding $1.8bn, backlog orders exceeding $3.5bn, and net profits at a record level of $170m.

Rafael has created partnerships with companies in Israel and with leading aerospace and defense companies overseas. Offset activities and industrial cooperation have been organized with over 20 countries worldwide. Over the last decade, international business activities have been steadily expanding across the globe, with Rafael acting as either prime contractor or subcontractor, capitalizing on its strengths at both system and subsystem levels.

Rafael's highly skilled and dedicated workforce tackles complex projects, from initial development, through prototype, production and acceptance tests. It provides customer service and support, upgrading existing systems and offering turnkey projects involving the transfer of basic technologies or complete production facilities. Rafael current employs approximately 6,500 people.

Rafael's quality management system is certified to AS9100, ISO9001: 2008 and ISO 90003, ISO 17025, ISO 14001 ,OHSAS18001, and complies with CMM and CMMI (level 3).

Rafael aspires to strengthen its position even further in the international defense market, while maintaining its special contact with the IDF. It aims to enhance its acclaim as a world-class provider of quality defense products and excellent customer service. It will continue to predict the needs of future combat forces worldwide and provide the technologies and systems required by those forces.

Main Business Areas
Air Defense
Rafael's air defense systems protect high value military, industrial assets and civilian population against a wide variety of air threats. The systems also provide first-class defense for forces located in the combat area. Rafael's air defense systems include, mobile, short and medium range, quick reaction, low level surface-to-air missile systems designed to successfully counter attacks by aircraft, helicopters, UAVs and PGMs. For naval air defense, Rafael has developed a system specifically designed to counter existing and future anti-ship air threats, including supersonic sea-skimming missiles. Rafael is currently developing two new AD systems for rocket and missile defense, in partnership with Raytheon USA and the Israeli Directorate of Defense R&D (MAFAT). These new systems will form a comprehensive, multi-layered solution for all air defense requirements.

Protection and Survivability
Rafael manufactures a wide range of superior armor products that have been fielded and combat-proven by the IDF, US Army and Marines, NATO countries, peacekeeping forces and other customers worldwide. Its passive armor is used to protect light and heavy armored vehicles, against kinetic threats such as bullets, projectiles and artillery fragments and mines. Rafael also produces reactive add-on armor kits for MBTs and LFVs against shaped charge warheads. In order to meet high safety and environmental requirements, Rafael's reactive armor consists of insensitive explosives. Rafael has recently introduced a hybrid add-on armor product that combines the benefits of both its passive and reactive technologies and protects against the most modern anti-armor threats. In addition, Rafael is a pioneer in the field of active armor protection and also produces boron carbide tiles for the most effective, lightweight and cost-effective personal armor available.
Missile Systems
Rafael has extensive experience in developing and manufacturing some of the most advanced missiles in the world. Its wide range of missiles for air, land and sea applications includes: anti-armor/multi-purpose missiles for short to extended ranges, active-radar and full-sphere IR air-to-air missiles with short-to-beyond visual range, as well as missile targets for TBMs. Its array of air-to-surface missiles includes stand-off missiles and precision-guided munitions kits for use against high-value ground targets. Rafael also develops, adapts and manufactures its advanced missiles for naval and surface-launched air defense systems.

Border and Critical Infrastructure Protection
Rafael designs and manufactures solutions for border and critical infrastructure protection while taking specific customer requests and budget constraints into account. The systems that make up these solutions include smart fences; observation balloons and vehicles; recording sensors and day-time/night-time cameras; acoustic sensing equipment; image processing tools; communication devices for data and image transfer(C4I sensor management); as well as systems for force control; integration, command and control; aerial, mobile and man-portable surveillance and reconnaissance and maritime and port security systems.
C4ISR Systems
Rafael is a well known provider of C4ISR systems that have been combat proven not only in the IDF, but also in many defense forces worldwide. The systems provide solutions for a wide range of C4ISR missions; from close range urban warfare to long range airborne missions. Rafael's C4ISR systems include: real-time reconnaissance and processing systems, enemy fire detection systems, electro-optic targeting and reconnaissance pods for aircraft, helicopters and UAVs, mobile reconnaissance and aerostat observation systems, tactical C4I systems and voice communication solutions for improved battle management.

Communications
Rafael is the main supplier of communication systems to the Israel Air Force, particularly data links, ROIP voice communication solutions, wireless networks, and built-in data links for high-end digital communications in helicopters. Data links have become invaluable tools for reconnaissance, guided weapons, missiles and unmanned vehicles, while advanced digital communication networks provide tactical data and voice applications. Rafael offers state-of-the-art, jam resistant and secure communication system solutions in the UHF to Millimeter Wave (mmW), as well as narrow-band and wide band data-links, airborne tactical networks, data & voice networks and relay systems. Voice/radio over IP services are offered for all branches of the armed forces.

Counter-IED Solutions
Rafael Advanced Defense Systems Ltd. has, for the past 15 years, worked closely with the Israeli Ministry of Defense (IMOD) and the Israel Defense Forces (IDF) in the accelerated development of products for the defeat of Improvised Explosive Devices (IED). Rafael has placed the development of robust directed energy systems for IED defeat as a major priority in its multi-year development plan. The capabilities of these systems include pre-initiation and pre-detonation, detection, and neutralization. After undergoing extensive performance testing within the IDF, the technology has been implemented in several new generation systems.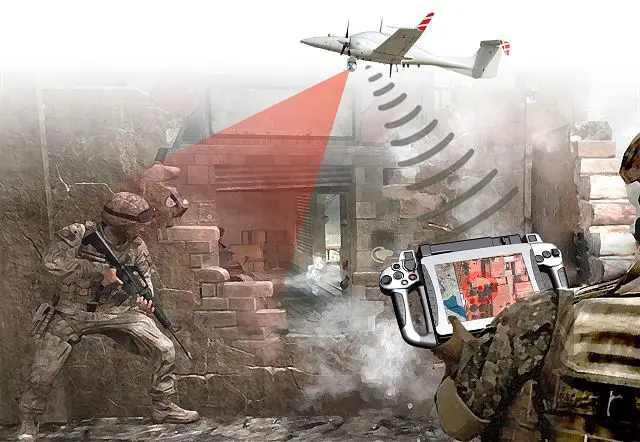 Electronic Warfare (EW)
Rafael's EW systems consist of air, naval and ground EW products, based on state-of-the-art digital technology, ranging from digital receivers, through advanced technique generators to Solid-State Amplifiers (SSA) used for high-power phased array Multi-beam Array Transmitters (MBAT).

Rafael's applications for EW systems are used for Electronic Support Measures (ESM receivers), Direction Finding (DF), Electronic Counter-Measures (ECM transmitters) on-board and off-board jammers and decoys, and EW evaluation systems, as well as various RF systems and transmitters which provide the building blocks for advanced EW systems.

In addition, Rafael is a world-leader in Directional IR Countermeasure (DIRCM) systems that are designed to protect light and medium-sized helicopters from Man Portable Air Defense Systems (MANPADS) and anti-tank Command Line-of Sight (CLOS) missiles.

Space Technologies
Rafael continues to expand its space activities to include micro-satellites and complete space propulsion systems for satellites and satellite launchers. It offers affordable and highly-effective advanced solutions for both military and commercial Low Earth Orbit (LEO) missions. The propulsion systems include attitude control and orbital transfer propulsion modules for the Ofek and Eros satellite series, attitude control systems for satellite launchers, electric propulsion systems and cold-gas reaction control systems for micro-satellites. In addition, Rafael supplies propellant tanks, thrusters and valves for hydrazine propulsion systems, as well as third-stage solid propellant rocket motors. Rafael's components are presently in orbit, on several Israeli and European satellites.

Technologies and Subsystems
Rafael develops and produces a wide range of components and subsystems for its own products and for companies worldwide. The company offers rocket motors, warheads, s/a and fuse devices, pyrotechnics, plastic explosives and other applications based on energetic materials. Rafael provides subsystems produced of advanced materials such as thermal protection components and a full range of thermal batteries for a variety of applications. The company also develops and produces unique optical components, ZnS components, metallurgical design and powder metallurgy, PVD optical coatings, ceramic composites and composite structures as well as the design and evaluation for Micro-Systems (MEMS). Rafael has extensive experience in propulsion systems for satellite application and excels in technologies in the fields of missile system engineering, electro-optical seekers, image processing, communications, aerodynamics and navigation, as well as weapon / avionics subsystems for combat helicopters. All research, development and evaluation is supported by Rafael's advanced laboratories and simulation center.
Press releases

Back menu
TROPHY Completes a Successful Evaluation in the USA
An ISRAEL Defense Forces (IDF) Stryker Armored Fighting Vehicle fitted with TROPHY, (ASPRO-A) a Rafael Advanced Defense Systems Active Protection System, withstood numerous missiles and rockets attacks under a six-week test and evaluation program.

Read More
Rafael 2010 Financial Results
Rafael Advanced Defense Systems Ltd. ended the year 2010 with a record net profit of $170 million (633 million Shekels), with orders totaling $1.9 billion (7 billion Shekels), an order backlog of $3.6 billion (12.6 billion Shekels) and sales of $1.8 billion (7 billion Shekels).

Read More
Rafael announces ImiLite - new ISR Command and Control Exploitation System
ImiLite is a cost-effective intelligence system designed to receive, process and exploit multiple standalone imagery video and other intelligence data in a centralized and unified way. Rafael Advanced Defense Systems Ltd., developer and manufacturer of leading air, sea, and land defense solutions, announces Imilite, a new, multi-sensor, multi-platform intelligence, surveillance, and reconnaissance (ISR) Exploitation System.

Read More

Back menu
RAFAEL's naval systems are designed for both surface and the sub-surface environments, as well as for divers and underwater security. Comprehensive combat suits are available for ships of all sizes, and include weapon systems, sensors and command and control facilities. RAFAEL's defensive system suits include various types of decoys, ECM as well as hard-kill measures and torpedo countermeasures for surface ships and submarines.

Fiels of Activity:
- SelfDefense
- Countermeasures
- Underwater Systems
- C4ISR
- Multi-Purpose USV
Contact Information Rafael
Headquarters & International Markets
Rafael Corporate
POB 2250
Haifa 31021
Israel
Tel.: +972 4 879 4717
Fax: +972 4 879 4657
Email: intl-mkt(at)rafael.co.il
Website: www.rafael.co.il
Click here to send a request to Rafael

Back menu
Barak Naval air Defense System
| | |
| --- | --- |
| | Barak is a mature, operational anti-missile point defense naval surface-to-air missile system, designed to protect combat vessels against sea skimming missiles and aircraft threats. Barak is effective against highly maneuvering, supersonic and low altitude threats (sea skimmers), as well as low radar cross section (RCS) targets. It is also effective against a full variety of free space threats. The missile system is designed to engage multiple targets simultaneously. BARAK is in operational service in the naval forces of several countries. |
PROTECTOR Unmanned Naval Patrol Vehicle
| | |
| --- | --- |
| | The Protector is an integrated naval combat system, based on unmanned, autonomous, remotely controlled surface vehicles. Highly maneuverable and stealthy, the Protector can conduct a wide spectrum of critical missions, without exposing personnel and capital assets to unnecessary risk. The Protector's anti-terror mission module payload includes sensors and weapon systems. The search radar and the Toplite electro-optical (EO) pod enable detection, identification and targeting operations. The weapon systems are based on Rafael's Typhoon remote-controlled, stabilized weapon station, capable of operating various small caliber guns. The highly accurate, stabilized weapon station has excellent hit-and-kill probability. |