---
According to information published by the U.S. Department of Defense on October 15, 2021, the U.S. Coast Guard commissioned the USCGC Emlen Tunnell (WPC 1145), Patrol Forces Southwest Asia's fourth 154-foot Sentinel-class cutter, into service at Penn's Landing in Philadelphia.
Follow Navy Recognition on Google News at this link
---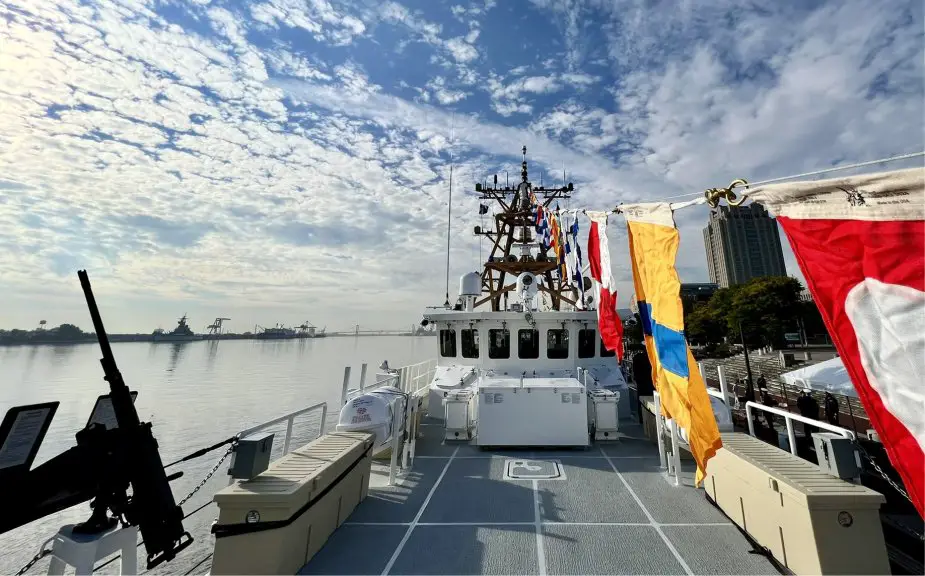 Sentinel-class cutter Emlen Tunnell (Picture source: Twitter account of USCG Atlantic Area)
---
Adm. Karl Schultz, the commandant of the U.S. Coast Guard, presided over the ceremony. Ms. Yvonne Gilmore Jordan, the eldest first cousin to Tunnell, is the ship's sponsor.
The Emlen Tunnell was officially delivered to the U.S. Coast Guard on July 1 in Key West, Florida. It is the 45th Sentinel-class fast response cutter. Each of these cutters carries the name of a U.S. Coast Guard enlisted hero. While the ship is commissioned in Philadelphia, it will homeport in Manama, Bahrain, part of U.S. Coast Guard Patrol Forces Southwest Asia. The crew will transit to homeport alongside their sister ship, the USCGC Glen Harris (WPC 1144), later this year.
Schultz added the Sentinel-class cutter is a game-changer in a time when the demand for U.S. Coast Guard services has never been higher. The Tunnell and Glen Harris will join two Sentinel-class ships already in service in the Arabian Gulf. Two additional 154-foot cutters will join these in 2022 for a total of six in service at PATFORSWA.
The Sentinel-class cutter, also known as Fast Response Cutter due to its program name, is part of the United States Coast Guard's Deepwater program.
The vessels are armed with a remote-control 25 mm Bushmaster autocannon and four crew-served .50-caliber (12.7 mm) M2HB heavy machine guns. They have a bow thruster for maneuvering in crowded anchorages and channels. They also have small underwater fins, for coping with the rolling and pitching caused by large waves. The vessels are manned by a crew of 22.
---