a
Naval Forces News - Russia
Russian Navy Third Project 11356 Frigate Admiral Makarov to Continue State Trials in 2017
Russia's third Project 11356 frigate Admiral Makarov that was to be commissioned at the end of 2016 will continue state trials this year, Roman Martov, a spokesman for the Russian Baltic Fleet, said on Tuesday.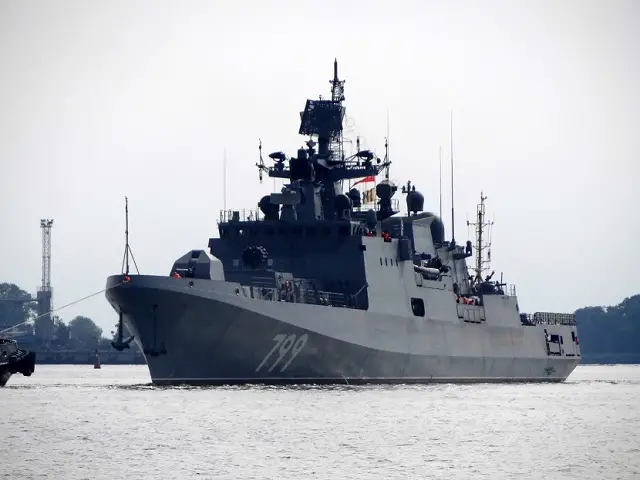 The third Admiral Grigorovich class Frigate of the Russian Navy. Picture: Drakon 64 / forums.airbase.ru
"State trials of Russia's advanced Admiral Makarov frigate will begin at the Baltic Fleet ranges immediately after the New Year and Christmas holidays," he said. "During the state trials, the ship's performance index, the work of the main power unit, ship systems and devices will be checked."

According to Martov, special attention will be paid to the work of the power unit, steering control system, communications, detection and navigation equipment and anchor handling equipment. The ship's speed and maneuvering capabilities, its armament and aircraft system will be tested as well.

The Admiral Makarov is the third Project 11356 vessel. Earlier reports said that the frigate was due to be transferred to the Russian Navy before the end of 2016.The two other warships, the Admiral Grigorovich and the Admiral Essen, were commissioned on March 11 and June 7, 2016, respectively.

The Project 11356 frigate has a full displacement of 4,035 t, a length of 124.8 m, a width of 15,2 m, a draft of 4.2 m, a cruise speed of 30 kt, an endurance of 30 days (or 4,850 miles), and a crew of 180 sailors. The ship is powered by two gas-turbine engines (30,450 h.p. each). The frigate is armed with 3M-54K/3M-14K Kalibr anti-ship/land-attack missiles (SS-N-27 Sizzler), one 100mm A-190 naval gun, two AK-630M close-in weapon systems (CIWS), the Shtil-1 (SA-N-7C Gollum) naval surface-to-air (SAM) missile system with 36 SAMs, and two twin 533mm torpedo launchers.

Previously, the Indian Navy (IN) received six Talwar frigates based on the Project 11356 ship.



© Copyright 2017 TASS. All rights reserved. This material may not be published, broadcast, rewritten or redistributed.