a
Naval Forces News - China
Video: PLAN Developing its Aircraft Carrier Operations Skills in South China Sea
The People's Liberation Army Navy (PLAN or Chinese Navy) aircraft carrier Liaoning and its escort left Yulin naval base (on Hainan island) on January 1st and is now conducting carrier operations in the South China Sea. For the first time since the commissioning of Liaoning four years ago, J-15 fighters and helicopters are training to improve their skills in this strategic region.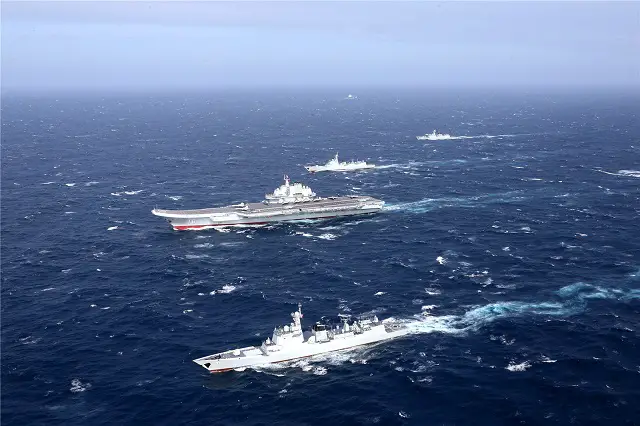 PLAN Liaoning CSG operating in the South China Sea in Sea State 4
According to a Chinese Military statement, the first carrier operations in the South China Sea began on January 2, 2017 around 9:30 am local time. The official statement mentions some more complex weather and sea conditions (compared to the zones where Liaoning operated thus far): A cold front with very low clouds formations as well as rain and fog. The pilots and landing signal officers (LSO) had to adapt to this situation which is still new to them, considering the relative limited carrier operations experience of the "young" crew.

The weather forecast report and the images released by the PLAN show wave heights of up to 3 meters, which corresponds roughly to sea state 4.
The latest cruise of the Chinese carrier strike group which triggered plenty of reactions and comments in Japan and Taiwan, is interesting for two aspects:

First, while the Liaoning aircraft carrier crossed five distinct maritime zones, no actual "carrier ops" (involving aircraft) seems to have been conducted in the Western Pacific. The Chief of the Liaoning air wing (CAG) mentioned the activities of his pilots and aircraft everywhere except during the relatively fast transit to the Pacific Ocean. The other official press releases do not mention carrier ops in the Pacific either.

Second, while the Chinese aircraft carrier and its air wing actually operate in the South China Sea, they still remain relatively close to Chinese territorial waters, south of Hainan island.

Indeed, messages to civil aviation crews (NOTAM) - A0002 / 17, A0007 / 17 and A0013 / 17 - seem to suggest that the Chinese CSG has been operating for a few days in a small area of 56 × 27 km, 40 km south of Hainan. If this point is confirmed, means that a "show of forces" does not seem to be the primary objective of this cruise.

The objective is rather, as stated in the official statement of the Chinese Navy: to "Practice and evaluate carrier strike group operations", "establish the combat command and logistics system on the high seas" and "improve the level of integration of aircraft with the Liaoning aircraft carrier".

Via our colleagues from Eastpendulum