a
Naval Forces News - Russia
Russian Navy undecided on submarine class to receive air-independent propulsion AIP system
The Russian Navy is yet to decide on the class of diesel-electric submarines to be equipped with the air-independent propulsion (AIP) plants first - the Project 677 Lada (NATO reporting name: Petersburg) or the fifth-generation submarine codenamed Kalina, Russian Navy Commander-in-Chief Vladimir Korolyov has told journalists.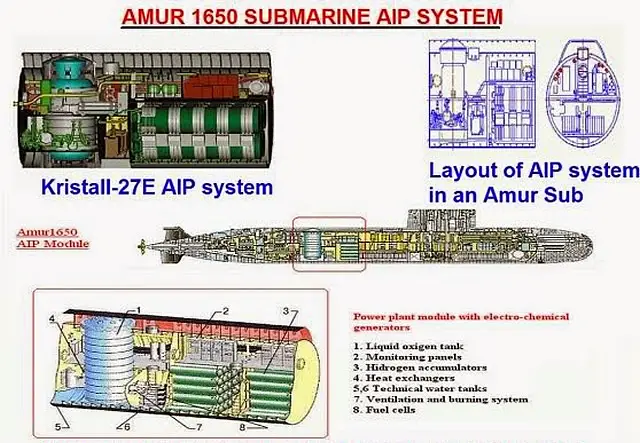 AIP system on the AMUR class submarine (for illustration purpose only)

"We will make a decision after the power plant has been developed. Developing the AIP plant is a creative process, hence, we will try to wrap it up quickly. Everything is hinged on not only the Navy, but the design bureau as well, and on our cooperation to boot. We shall provide this," he emphasized.

Previously, it was reported that the Russian Navy expected the AIP for its diesel-electric submarines to be ready for use in 2021-2022. In late 2015, Rubin Design Bureau Director General Igor Vilnit said the sea trials of the power plant were slated for 2016. He also stressed that the AIP plant could be easily integrated with the Project 677 submarines.

Russian Navy Deputy Commander-in-Chief Victor Bursuk had said previously that the Project 677 submarines might be the first to receive AIP power plants.



© Copyright 2017 TASS. All rights reserved. This material may not be published, broadcast, rewritten or redistributed.