BAE Systems and Leonardo to Adapt Vulcano Guided Round for DDG 1000's Advanced Gun System

.
a
Naval Defense Industry News - USA, Italy

BAE Systems and Leonardo to Adapt Vulcano Guided Round for DDG 1000's Advanced Gun System

BAE Systems and Leonardo have announced an initiative to pursue collaborations on new precision-guided solutions that will offer U.S. and allied military forces a range of low-risk, cost effective, advanced munitions for advanced, large caliber weapon systems.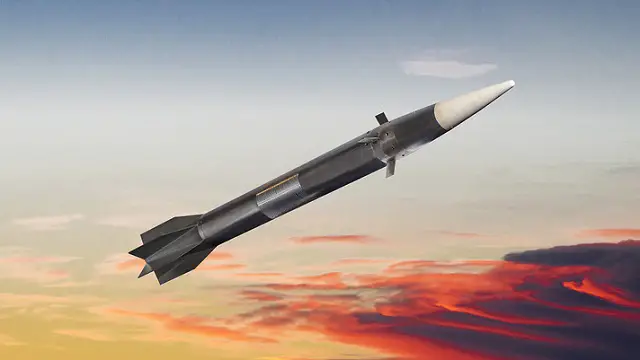 Artist impressions of Vulcano long range guided ammunition in flight. Picture: BAE Systems
The two companies anticipate offering new adaptations of Leonardo's Vulcano — a family of gun-launched munitions that exceed the performance of currently available precision-guided projectiles — in a variety of gun systems, including the BAE Systems-built Advanced Gun System (AGS) and the Mk 45 naval gun. The AGS is currently on board the U.S. Navy's Zumwalt class of destroyers, and the Mk 45 is widely used by the Navy and allied nations.

"As a leading global provider and integrator of all major caliber weapon systems, we are expertly positioned to integrate mission-driven, advanced, and affordable munitions like Vulcano into land and naval gun systems," said Joe Senftle, vice president and general manager of Weapon Systems at BAE Systems.

"The Vulcano long-range guided ammunition family — part of the Leonardo's global offer of naval, land-based, and aeronautical weapon systems for customers worldwide — represents state-of-the-art technology with its unmatched range, accuracy, and effectiveness, which was successfully demonstrated in testing," said Gianpiero Lorandi, managing director at Leonardo Defence Systems. "Not only is it compatible with 155-mm land and 5-inch naval gun systems, Vulcano can also be easily integrated into current and future platforms such as the AGS — a major benefit."
BAE Systems AGS, the DDG 1000 Zumwalt class main gun, during land based trials firing the Long Range Land Attack Projectile (LRLAP) pictures: BAE Systems
The new adaptations of Vulcano will also focus on providing solutions for land-based 155-mm artillery systems, including all variants of the M777 and M109 howitzers for the U.S. military and allies around the world. In testing, the 155-mm Vulcano achieved launch accelerations that support maximum engagement ranges similar to distances required for the former Long Range Land Attack Projectile (LRLAP) program. The Mk 45 naval gun offers the potential to fire the 5-inch Vulcano at 20 rounds per minute to a maximum range over three times greater than existing munitions.

As part of this effort, BAE Systems and Leonardo will also explore offering an enhanced guidance and navigation unit, including semi-active laser and infrared seeker options designed to ensure pinpoint accuracy and provide moving-target capability to address air-, land-, and sea-based threats from land and naval weapons. Both companies will continue to independently offer land and naval guns beyond this joint work.