a
Naval Defense News - India
First LRSAM Missile Delivered to India's Minister of Defense for Use by Indian Navy
At a ceremony held on Sunday, August 27 in Hyderabad, India, the first LRSAM Missile manufactured in India was delivered to India's Minister of Defense Mr. Arun Jaitley, who awarded it to the Indian Navy. The missile is part of the LRSAM air & missile defense system of India's Defense Research and Development Organization (DRDO) and Israel Aerospace Industries (IAI), to be installed in India's operational missile ships whose construction has been completed recently.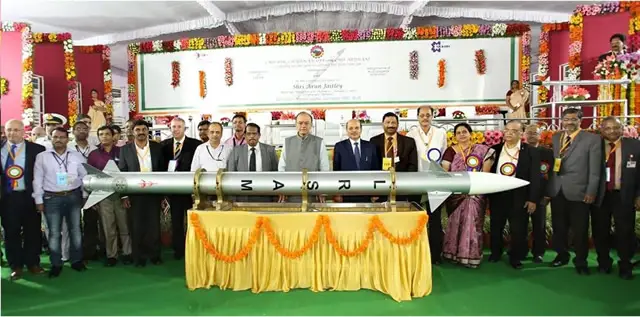 Delivery ceremony for the first LRSAM. IAI picture.
Mr. Arun Jaitley, India's Minister of Defense, praised the collaborative effort involved in developing this advanced technology. He pointed out at the ceremony: This is an historical day for India, in which our navy becomes the proud owners of one of the most sophisticated systems in the world. This system will help the Indian Navy protect our country. India needs to be prepared for any scenario. Therefore we should equip our operational forces with the best of advanced technology. The delivery of the first missile coming out from indigenous production line is an example of the Indian economy and industry capabilities. We must continue developing the local infrastructure and manufacturing as part of our defense capabilities.

Boaz Levi, IAI's Executive Vice President and General Manager of Systems, Missiles & Space Group who attended the ceremony, said, "the delivery of the first missile manufactured in India to India's defense arms is a technological dream come true. It is another exciting step in the many-years collaboration between IAI, India's government, India's DRDO and other partners and one that reflects a technological and engineering effort of the highest level."
Video: Barak-8 missile is launched from INS Kalkota
The local manufacturing in the LRSAM Project is part of India's "Make in India" Policy. IAI and RAFAEL from Israel together with Baharat Dynamic (BDL) from India have established production lines, in India, for the LRSAM program. The local production line is provided with Israeli-made assembles which are integrated with Indian-made assemblies into an operational missile.

LRSAM is an advanced air and missile defense system a unique joint development by IAI and India's Defense Research and Development Organization (DRDO) in collaboration with IAI subsidiary ELTA, RAFAEL and various Indian companies. The system comprises several key state-of-the-art elements, advanced phased-array radar (MFSTAR), command and control system, launchers and missiles with advanced RF seekers. The system provides ultimate protection against a variety of aerial, naval and air born threats and is operational with the Indian Air Force, Indian Navy and Israel Defense Forces and in the near future with the Indian Army. Over the past few years, IAI has awarded several contracts for air and missile defense systems to India, including$2.5 billion-deals in recent months.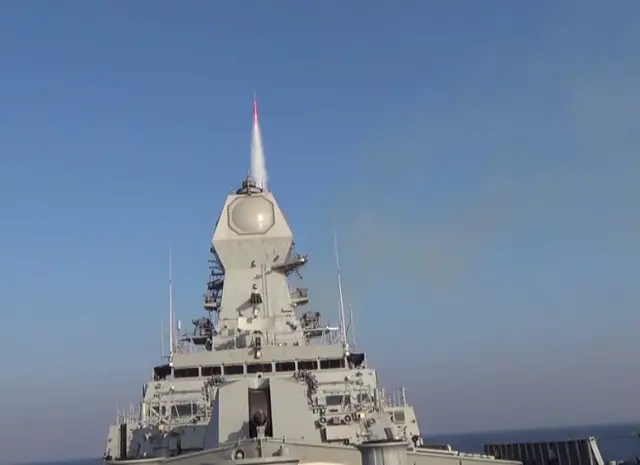 LRSAM / Barak-8 is test fired from INS Kolkata destroyer. Picture: Indian Navy
Comment:
Ultimately, the Barak-8 system is expected to be fitted on board Kolkata and Visakhapatnam (Project 18B) class destroyers, aircraft carriers INS Vikramaditya and

INS Vikrant

, as well as designed the future Project 17A frigates. The Indian Navy is procuring the Barak-8 missile system to counter the latest anti-ship missile threats from China and Pakistan.

INS Kolkata is the lead ship of the Kolkata-class (Project 15A) guided-missile destroyers of the Indian Navy. She was constructed at Mazagon Dock Limited (MDL), and was handed over to the navy on 10 July 2014 after completing her sea trials.

Project 15A, which involves the delivery of three destroyers, will be followed by Project 15B. 15B will be an evolution of 15A.

Kolkata class destroyers are fitted with IAI's EL/M-2248 MF-STAR radar , VLS to launch 16x Brahmos anti-ship supersonic cruise missile and 32x Barak-8 surface-to-air missiles, 4x AK-630 close in weapon systems and a 76mm main gun from Oto Melara. The class can accomodate two HAL Dhruv helicopters.