---
Littoral Combat Ship (LCS) Charleston (LCS 18) successfully completed acceptance trials in the Gulf of Mexico, July 19, after a series of in-port and underway demonstrations for the Navy's Board of Inspection and Survey.
---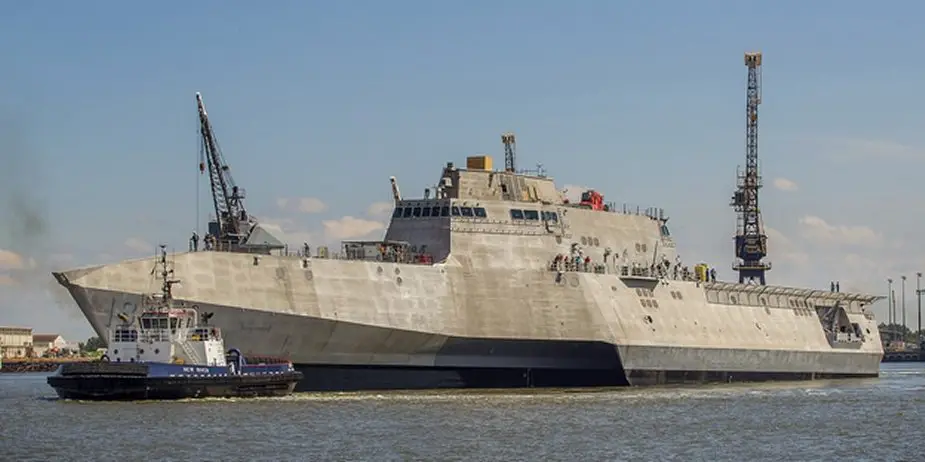 Littoral Combat Ship Charleston (LCS 18) (Picture source: Austal)
---
Acceptance trials are the last significant milestone before the ship is delivered to the Navy. During trials, the Navy conducted comprehensive tests of the future USS Charleston to demonstrate the performance of the propulsion plant, ship handling abilities and auxiliary systems.
While underway, the ship successfully demonstrated her bow thruster, twin boom extensible crane operations with the 11-meter rigid-hull inflatable boat, completed surface and air self-defense detect-to-engage exercises and demonstrated the ship's handling and maneuverability through high-speed steering and operation of her anchor.
Following delivery, Charleston (the ship) will undergo a post-delivery availability that includes crew training, certifications and familiarization exercises in Mobile.
The ship will be homeported in San Diego with sister ships USS Independence (LCS 2), USS Coronado (LCS 4), USS Jackson (LCS 6), USS Montgomery (LCS 8), USS Gabrielle Giffords (LCS 10), USS Omaha (LCS 12), USS Manchester (LCS 14) and the future USS Tulsa (LCS 16), which was delivered in April and will be commissioned in February 2019 in San Francisco.
Several more Independence-variant ships are under construction at Austal USA in Mobile. Cincinnati (LCS 20), Kansas City (LCS 22), Oakland (LCS 24) and Mobile (LCS 26) are in varying stages of construction. In addition to these ships, contracts for Savannah (LCS 28) and Canberra (LCS 30) were awarded to Austal in 2017.
---