PIRIOU and DCNS win the B2M contract for the French Navy

| | |
| --- | --- |
| | PIRIOU and DCNS have together won the contract for the supply of three multi-mission ocean-going vessels, with an option for a fourth, and the associated maintenance services. This contract, awarded by French defence procurement agency DGA, with PIRIOU as lead contractor, is part of the B2M multi-mission ship programme. It covers the design and construction of three multi-purpose ocean-going ships, 65 metres long and displacing around 1500 tons, to be delivered in 2015 and 2016. The ships are intended for operation overseas. |
a
Naval Industry News - France
PIRIOU and DCNS together win the B2M contract for the supply and maintenance of three French Navy ships based overseas
PIRIOU and DCNS have together won the contract for the supply of three multi-mission ocean-going vessels, with an option for a fourth, and the associated maintenance services. This contract, awarded by French defence procurement agency DGA, with PIRIOU as lead contractor, is part of the B2M multi-mission ship programme. It covers the design and construction of three multi-purpose ocean-going ships, 65 metres long and displacing around 1500 tons, to be delivered in 2015 and 2016. The ships are intended for operation overseas.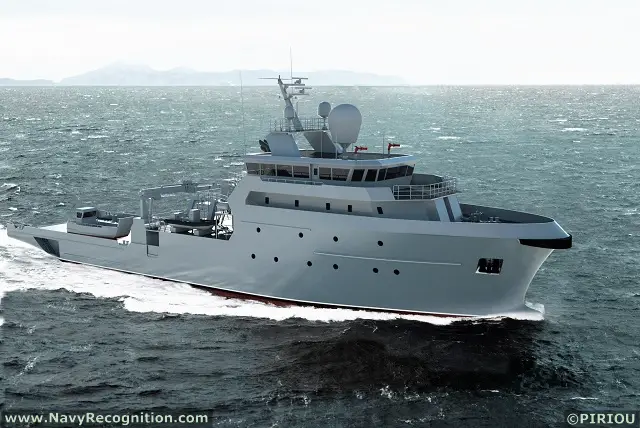 French Navy future B2M vessel (B2M or BMM stands for Bâtiments MultiMissions meaning Multimission Vessel in French)
(Picture: PIRIOU)

PIRIOU is responsible for the design and the construction of the ships. DCNS is co-contractor with PIRIOU for the military aspects of the design studies and the supply of the onboard communications systems (SITIP), and will be responsible for in-service support (ISS) of each ship for up to 6 years.
The joint proposal by PIRIOU and DCNS was submitted before the establishment of KERSHIP, the joint venture set up in the spring by the two companies, but KERSHIP may be given the responsibility of fulfilling the contract.

Pascal PIRIOU, Chairman and CEO of the group, declared: "This order was fundamental for us. First in practical terms, as we needed it to avoid a dip in workload in 2014, but also of course in strategic terms, since it gives substance to our collaboration with DCNS, which is boosted into orbit with excellent prospects for the future, particularly for export. I am extremely happy that our collaboration is bearing fruit so rapidly, thanks to a perfect understanding between our teams."

Bernard Planchais, DCNS Executive Vice-President, declared: "This mark of confidence by the DGA demonstrates the joint capacity of DCNS and PIRIOU to put forward competitive inclusive proposals for the design, construction and maintenance of low- and medium-tonnage ships. This joint success between our two groups strengthens our alliance with PIRIOU and enhances our partnership."

The new ships will have a top speed of 12 to 15 knots. They will have a long endurance of approximately 30 days of operation without replenishment. They will carry a work boat about 8 metres long and semi-rigid boats, and will have a crane for loading and unloading containers. They will also be capable of deploying divers and carrying weapons and munitions.

Update: According to the French Procurement Agency (DGA), these vessels:
- have the ability to project 20 personnel (joint, police or gendarmerie) with two 4x4 vehicles along with their weapons and ammunition.
- will ensure the evacuation of citizens and have the ability to deploy and support divers and equipment (including drones) to conduct underwater interventions.
- Under the state action at sea, they will provide fisheries police missions, and contribute to the fight against illegal immigration, drug trafficking and piracy.
- They will assist ships in distress and participate in safeguarding people and property, through their firefighting means and towing capacity of up to 30 tons