a
DIMDEX 2012 - Show Daily News
Damen Schelde Naval Shipbuilding (DSNS) at DIMDEX 2012
Damen Schelde Naval Shipbuilding (DSNS) is part of the Damen Shipyards Group, a globally operating company with more than 35 owned shipyards and numerous partner yards around the world.

Portfolio
The Damen unique portfolio comprises naval and patrol vessels ranging from 7 metres to more than 200 meters, from Interceptors, Frigates and Corvettes to large Naval Auxiliary Vessels, Support Vessels and Command Vessels. In addition, Damen offers a wide range of fast Inshore and Offshore Patrol Vessels.

Research
All vessel types have been thoroughly researched and are continuously evaluated in cooperation with scientific research institutes and our worldwide clients. This results in unrivalled sea keeping behaviour, speed and reliability for both our conventional hulls and Sea Axe bows.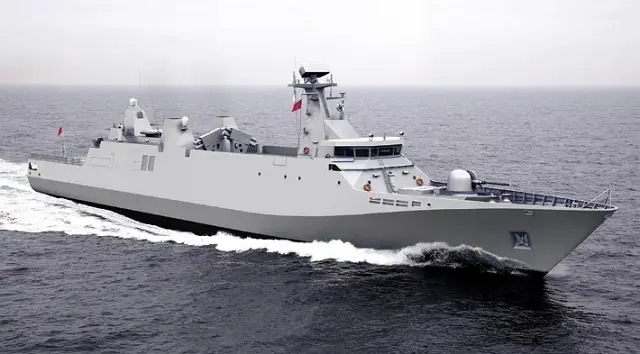 Royal Moroccan Navy SIGMA class Frigate, RMN Tariq ibn Ziyad, launched in 2011
(picture: Damen Schelde Naval Shipbuilding)
Construction & Delivery
Currently, DSNS has several vessels under construction for the Royal Netherlands Navy: four Oceangoing Patrol Vessels (OPV) and a Joint Logistic Support Ship (JSS), the largest military vessel ever built by DSNS. The first three OPV's, "Holland", "'Zeeland" and "Friesland" were transferred as scheduled to the Royal Netherlands Navy in 2011 and 2012. The fourth OPV, "Groningen" is in its final stages of construction at Damen Shipyards Galati, under supervision of DSNS.

Recently, several Damen Stan Patrol (Sea Axe) vessels have been delivered to, amongst others, Jamaica and Albania. Furthermore, the US Coast Guard´s new Sentinel Class building programme consists of over 30 patrol vessels of Damen-design. Last but not least, an ultra high-speed Interceptor (55 knots) was delivered to privately-owned Specialized Vessel Services for maritime safety operations.

In addition to these naval and coast guard vessels, three SIGMA frigates are being built for the Royal Moroccan Navy of which the first two, Tarik ben Ziyad (105m) and Sultan Moulay Ismail (98m), have recently been delivered.

Visit Damen during DIMDEX 2012 on stand N-219