a
DSEI 2013 Daily News - Atlas Elektronik at DSEI 2013
STIDD Systems introduced the DPD Capsule: A Towable Cargo Trailer for Combat Divers
American company STIDD Systems introduced the new DPD Capsule during DSEI 2013, the International Defence & Security event in London, United Kingdom. The DPD Capsule is a low-drag, cargo trailer that combat divers can tow underwater during their missions using the existing STIDD Diver Propulsion Device (DPD) already in use with several naval special forces units around the world.

The DPD Capsule is designed to be towed by the existing STIDD DPD underwater mobility platform
image: STIDD Systems, Inc.
The new DPD Capsule provides an additional 340 liters of cargo space to the Diver Propulsion Device without adding significant drag. The capsule is fabricated form marine alloy aluminum and hardcoat anodized for corrosion resistance. Neutral buoyancy is achieved with hard-mounted rigid foam volumes in the nose and tail sections.

The 0.53 meters diameter and 2.3 meters length are compatible with NATO submarine torpedo tubes.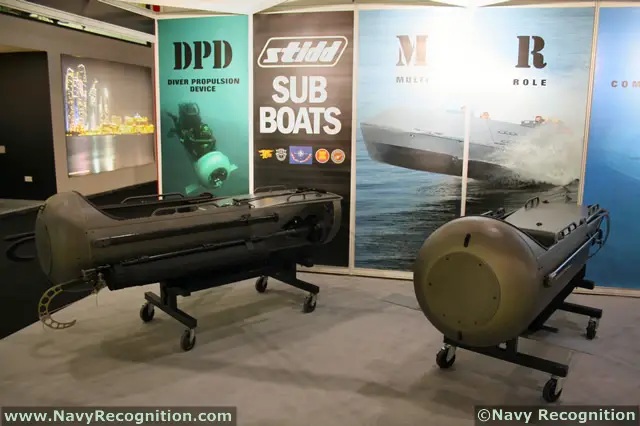 Two "Diver Propulsion Device" underwater vehicles were on display
at the STIDD stand during DSEI 2013
The STIDD Diver Propulsion Device (DPD) is the most widely used military-grade underwater mobility platform in the world. The DPD enables divers to travel farther and faster with more payload than previously possible with any other diver propulsion device.

Depending on the mission and conditions, operators may need different combinations of speed, range, and payload capacity. STIDD now offers an expanded lineup of 3 different DPD models that will fit any profile. All models have the same proven and reliable standard DPD dimensions and US Navy Certifications.

» NAVSEA 9310 Certified
» Approved for US Navy Use (ANU Listing)
» Under contract to USMC, US Army, USSOCOM, and many International SOF Maritime Units
» DPD now has over an 80 meter Operating Depth!
» The STIDD Recon-Navigation System (RNAV) for the DPD now has Doppler capability