a
LIMA 2013 Daily News - TKMS at LIMA 2013
TKMS Above and beneath the seven oceans: Expertise. Technology. Innovation.

The naval surface vessels, submarines and maritime defence equipment designed and built under ThyssenKrupp Marine Systems' flag are widely acknowledged for their superior technological excellence, reliability and longevity.

Today this naval systems house is a powerful, highly specialised global player exclusively acting in the naval shipbuilding field and possessing outstanding expertise in the prime contractor role. Business operations rely on the two German and Swedish subsidiaries ThyssenKrupp Marine Systems and Kockums:

ThyssenKrupp Marine Systems: is the new nameplate arising from the merger between the renowned Blohm + Voss Naval and HDW shipyards and stands for more than 300 years of combined cutting edge technology above and beneath the seven oceans, as well as for world leading naval assets 'Made in Germany'. In order to stay abreast of the longstanding tradition and success, the new umbrella of ThyssenKrupp Marine Systems preserves former company names as brands for the naval surface (Blohm + Voss Naval) and submarine (HDW) shipbuilding.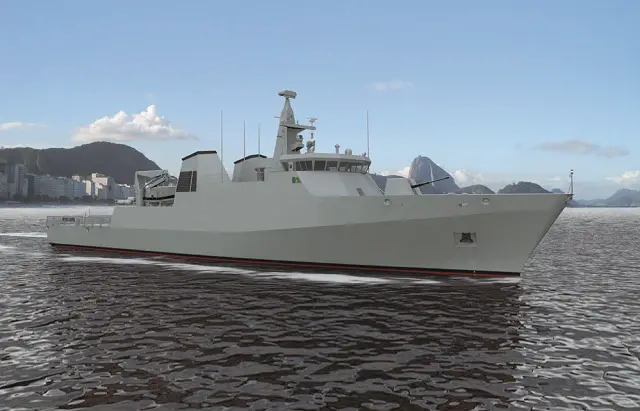 MEKO Class OPV
Picture: TKMS
Kockums: The Swedish counterpart of ThyssenKrupp Marine Systems has an impressive shipbuilding history dating back to the late 17th century. Nevertheless, Kockums does not only stand for tradition and experience, but excels with leading edge technologies in naval and submarine shipbuilding. The reference list of remarkable warships by ThyssenKrupp Marine Systems includes the Blohm + Voss Class 123, 124 and 125 frigates for the German Navy, a sizeable fleet of Blohm + Voss MEKO® Class OPVs, corvettes and frigates, the Kockums VISBY stealth corvette as well as the highly dependable Kockums MCMV 36 and SAM 3 minesweepers.

Beneath the sea, ThyssenKrupp Marine Systems has mapped the way for navies operating non-nuclear submarines with the famous HDW Class 209, 212A and 214 ThyssenKrupp Marine Systems is the world's only company capable of providing mission proven AIP technologies.

In their premises, engineering and shipbuilding specialists are passionate about the development and production of both non-nuclear submarines and naval surface vessels. But they are also the reliable partners – as proven in numerous cases – for the delivery of engineering services and material packages to building yards for the production, outfitting and testing in the client's country.

ThyssenKrupp Marine Systems: The integrated naval shipbuilding competence centre that meets expectations on the basis of high-end technology and proven designs with highest quality standards.