a
DSEI 2015 Naval Daily News - MSI Defence
MSI Defence Showcased Full Size Model of its New Seahawk UL Naval Gun System at DSEI 2015
At DSEI 2015, the International Defence & Security event in London, United Kingdom British company MSI-Defence Systems Ltd, one of the world leader in the supply of small/medium calibre Naval Gun Systems, was showing for the first time a full size model of its new SEAHAWK Ultra-Lite (UL). The SEAHAWK UL was first unveiled during Euronaval 2014.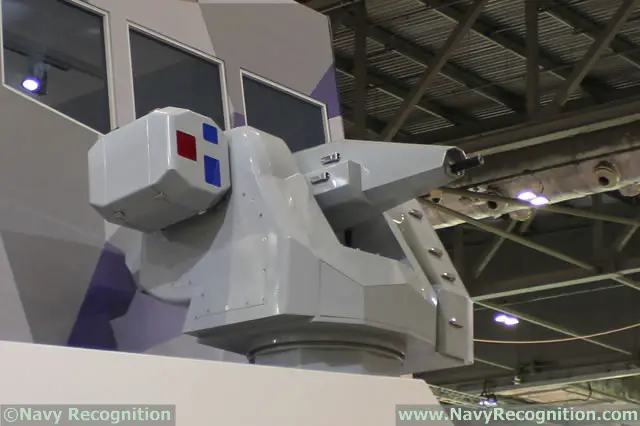 Full size model of the SEAHAWK UL on MSI stand at DSEI 2015
Fully configurable with on and off mount sensor suites, the SEAHAWK Ultra-Lite is a low mass modular remote weapon platform capable of being configured to carrying a suite of armaments. Ranging from 12.7 mm heavy machine gun though to 5.56 mm general purpose machine gun, including 40 mm automatic grenade launcher.

Specifically offering lighter craft (until 5-meters-long RHIB) exceptional accuracy and performance of a fully stabilised weapon system as well as offering larger craft the ability to add a close, last line of defence, layer of protection.

SEAHAWK UL features a large ready ammo capacity, a video auto tracker, a ballistic computer and predictor and an ergonomic control console with high resolution display.

The SEAHAWK family of Naval Gun Systems presents a leading edge solution to the modern problems of Force Protection, providing ship's self-defence against the Asymmetric Threat such as Fast Inshore Attack Craft and Exclusive Economic Zone Protection for Naval/Coastguard requirements.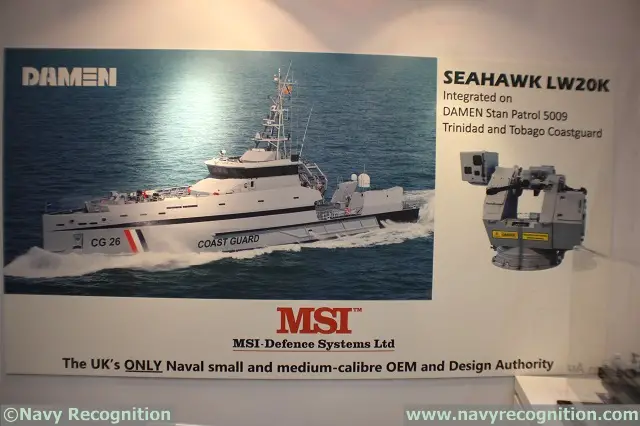 Announcement of the delivery of four SEAHAWK LW20K 20mm gun systems for Trinidad & Tobago
MSI also revealed during DSEI that it has delivered four SEAHAWK LW20K 20mm gun systems for Trinidad and Tobago's newly procured 50 meters Stan Patrol 5009 patrol vessels from DAMEN Shipyards. It was announced in May this year that following a 4-year acquisition programme, the Government of Trinidad and Tobago has agreed to purchase twelve vessels for the Trinidad and Tobago Defence Force from Damen Shipyards.

Trinidad and Tobago Four Damen Stan Patrol 5009 Coastal Patrol Vessels:
• 51 metres long, 9 metres wide
• Speeds in excess of 28 knots
• Range exceeds 2500 nautical miles
• Equipped with an advanced surveillance system
• Deploys an on-board 11metres interceptor plus a short-range 7.5metres Rigid Hull Inflatable Boat (RHIB)
• Uses a unique Sea-Axe design to dramatically enhance seakeeping in rough waters
• These vessels will patrol coastal waters andarealso capable of operating in Trinidad and Tobago's Exclusive Economic Zone