a
NAVDEX 2015 - Nexter Narwhal
Nexter Narwhal 20mm Remote Weapon System Will Be Fully Interfaced with FREMM's CMS

At IDEX 2015, Navy Recognition learned that Nexter Systems and DCNS teams are currently working together in order to interface the Narwhal 20B with the DCNS made FREMM Frigates. Following this work the Narwhal guns will be able to exchange data with the Combat Management System (CMS). More specifically, it will be connected to the fire control system and surveillance radar (Thales Herakles) of the frigates which will allow greater flexibility and shorter reaction time when dealing with threats.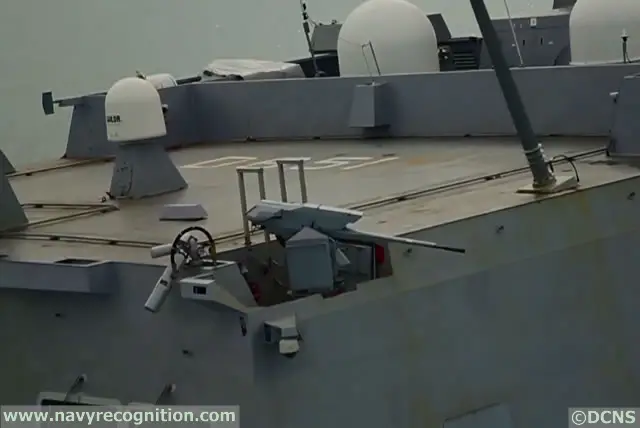 Detailed view of the Narwhal gun system onboard FREMM Normandie
Picture: DCNS
A Nexter Systems representative at IDEX 2015 told
Navy Recognition
that live firing of the Narwhal 20B systems on board FREMM Normandie will take place before the summer for validation. The two 20mm gun systems will stay on board when
Normandie
is delivered to the Egyptian Navy
. All future French Navy FREMMs will be fitted with the latest software standard (Narhwal interfaced with the CMS) while head of class Aquitaine will receive its two guns and software update during its first refit period.
It was announced during Euronaval last year that the navies of Lebanon and Gabon had also procured the Narhwal naval gun system. In additon, all three French Navy's Mistral class LHDs (Mistral, Tonnerre, Dixmude) will receive two NARWHAL RWS each: One at the bow, port side, and one at the stern, statboard side. As on the FREMM frigates, the NARWAHL will ensure the close-in self-defense of the LHDs.
NARWHAL20 is a fully stabilized remotely controlled naval weapon station. It is the fruit of Nexter Systems innovation and expertise in medium caliber cannons, gun mounts and turrets for both fixed and rotor wing aircraft as well as for naval vessels. NARWHAL20 combines the 20mm impressive firepower and advanced electro-optical day/night sensors and is ideally suited for maritime surveillance, law enforcement and sea police interception missions for countering and neutralizing evolving threats.
According to Nexter, NARWHAL20 is the most advanced 20mm naval weapon station on the market today. Selected by the French Navy in late 2011, already integrated on Normandie Frigate by DCNS, NARWHAL20 ensures the close-in self-defense of the French FREMM Frigates. Great interest for NARWHAL20 is growing on Export markets. NARWHAL20A or NARWHAL20B, selected by End users depending on their ammunition standard (20x102mm or 20x139mm) meets the exact needs of naval Forces and is the response for countering both conventional and asymmetric threats. More than 35 units are currently in production.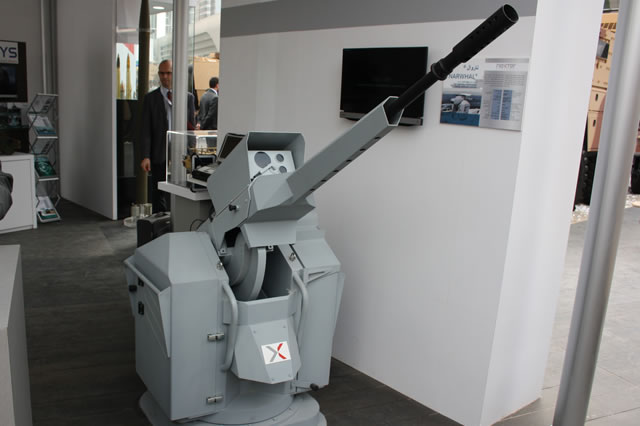 Narwhal model showcased on the Nexter stand during at IDEX 2015