a
UDT 2015 Online Show Daily - Sonardyne
Sonardyne showcasing its Sentinel underwater diver detection sonar at UDT 2015
At the UDT 2015 Undersea Defence Technology exhibition and conference currently taking place in the maritime city of Rotterdam, Netherlands, Sonardyne showcases its Sentinel system. Sentinel IDS® is the worlds biggest selling underwater diver detection sonar. Since its launch it has rapidly gained acceptance across the entire market spectrum protecting Ports and Harbours, Naval Platforms, Commercial Vessels, Megayachts, Critical Infrastructure and VIP Assets.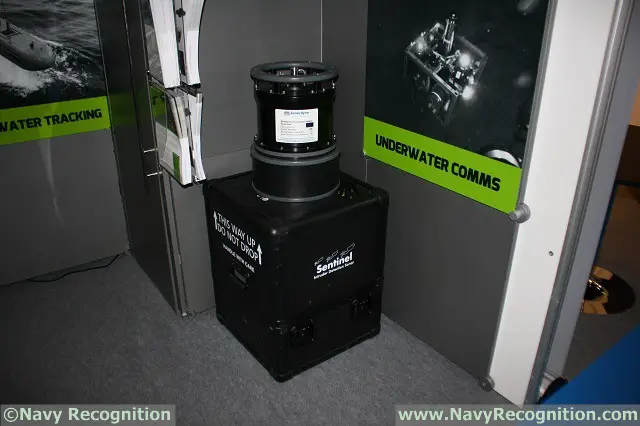 The Sentinel sonar head provides 360 coverage and can be deployed from a vessel, harbour wall or onto the seabed using a dedicated frame
Sentinel takes reliable, long range underwater intruder detection to a new level. The system has been developed from inception specifically for the purpose of detection and tracking difficult to find underwater targets.

The system is small, lightweight, has a low false alarm rate and, once configured, can be left to operate autonomously. The flexibility afforded by Sentinel's small footprint, with its full 360° detection area and network head capability, outperforms far more expensive and complex technologies.
Sonardyne stand at UDT 2015
For expeditionary installations, the system is flexible and capable of rapid deployment by unskilled operators. For permanent installations, the same subsea hardware can be deployed in many different configurations with full functionality providing the user with complete underwater domain awareness.