a
DIMDEX 2016 Online Show Daily - Visiting Ships
List of Visiting Naval Ships at Doha Port during DIMDEX 2016
DIMDEX has just released the list of visiting ships for the 2016 edition which starts March 29th The extensive warship display at Doha Commercial Port is an exciting and popular component of DIMDEX. Navies from the region and beyond are invited to send their warships and crews to proudly display today's most modern and capable ships. Shuttle buses will transport DIMDEX Visitors to and from the warships on each day of the show.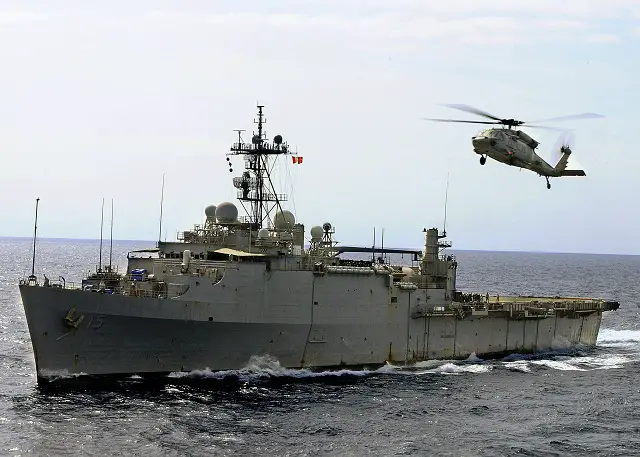 USS Ponce - Afloat Forward Staging Base (Interim) - US Navy
Picture: US Navy
The USS Ponce (AFSB(I)-15) standing for Afloat Forward Staging Base (Interim) is a former Austin class of amphibious transport dock. It has been converted to serve as mother ship and floating Base for mine counter-measure and coastal patrol vessels, as well as helicopter support. The Ponce also serves as a testbed platform for the Laser Weapon System (LaWS). LaWS is a prototype laser weapon system said to be effective against drones and small watercraft. The LaWS was deployed on the Ponce to the Persian Gulf in late August 2014.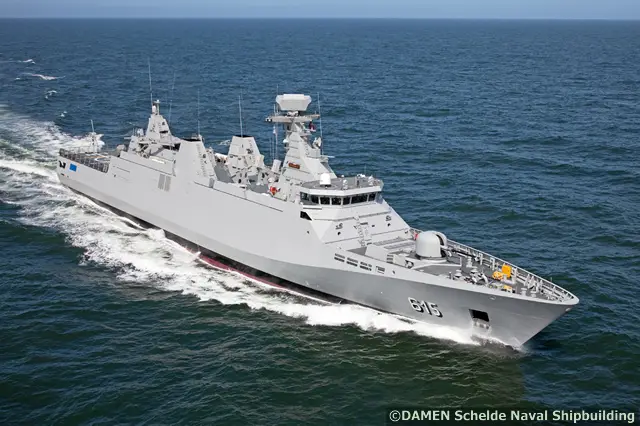 Sigma class Corvette Allal Ben Abdellah - Royal Moroccan Navy
Allal Ben Abdellah is a SIGMA 9813 corvette built by Damen in the Netherlands. Morocco ordered two SIGMA 9813 and one larger SIGMA 10514 from DAMEN in February 2008. The three SIGMA-class frigates for the Royal Moroccan Navy have been designed according to Schelde Naval Shipbuilding's revolutionary SIGMA-approach (Ship Integrated Geometrical Modularity Approach) and are a further development of the SIGMA-corvettes for the Indonesian Navy. The SIGMA approach applies modularity in many areas. The Royal Moroccan Navy SIGMA Class frigates are equipped to conduct the traditional naval tasks as well as maritime security operations. The vessels are also suited to support humanitarian aid operations.

Link to datasheet

Daring class (Type 45) Destroyer HMS Defender - Royal Navy
(Picture: Crown Copyright/MOD 2011)
Designed by BAE Systems, the Type 45 is an Anti-Air Warfare Destroyer conceived to protect UK and allied/coalition forces at sea and in the littoral against the full range of enemy aircraft and anti-ship missiles. In addition she has a wide suite of capabilities including Maritime Force Projection through Naval Fire Support and Littoral Manoeuvres. The class displaces 7,500 tonnes and is fitted with powerfull radars, 48 ASTER familly surface to air missiles and a 4.5 inch Mark 8 main gun.
Link to datasheet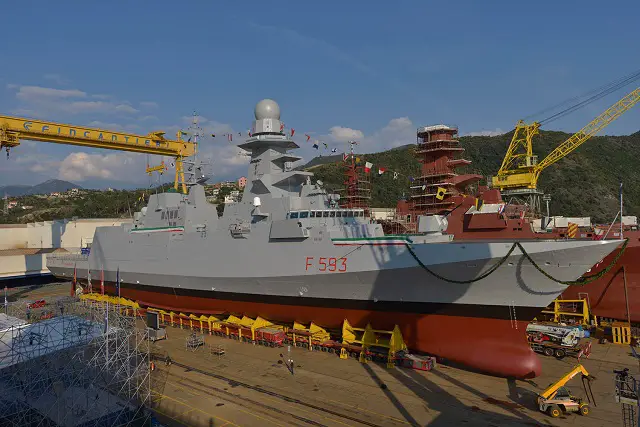 ASW FREMM Carabiniere - Italian Navy. Picture: Fincantieri
144 meters long and a displacement at full load of approximately 6,700 tonnes, the FREMM frigates represent technological excellence: designed to reach a maximum speed of 27 knots and to provide accommodation for 200 people (crew and staff), these vessels are able to always guarantee a high degree of flexibility and to operate in a wide range of scenarios and tactical situations. The FREMM is in the process of replacing the Lupo and Maestrale classes in the Italian Navy.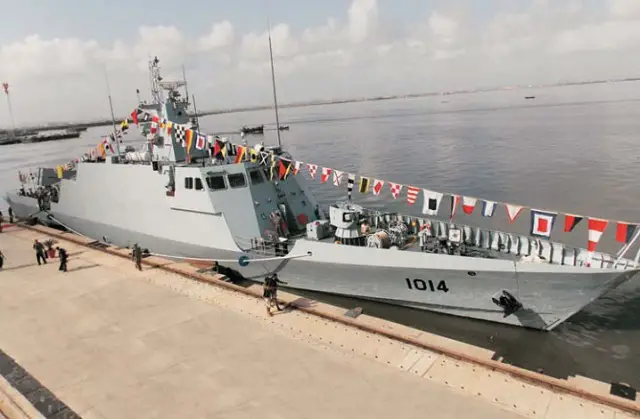 Azmat class Fast attack craft Dehshat - Pakistan Navy
The Azmat Class Missile Craft is a 560 Ton Fast Attack Craft feature surface-to-surface missiles. The ship has a stealthier design with state of the art missile and combat system. It has 63 meters long, have a range of 1000 nautical miles and a top speed of 30 knots. It is designed for Anti Surface Warfare, EEZ patrol and Search and Rescue missions. Dehshat is fitted with Chinese C802 anti ship missiles, a 23mm gun and a CIWS. The design is Chinese by Dehshat was built in Pakistan by Karachi Shipyard and Engineering Works Ltd.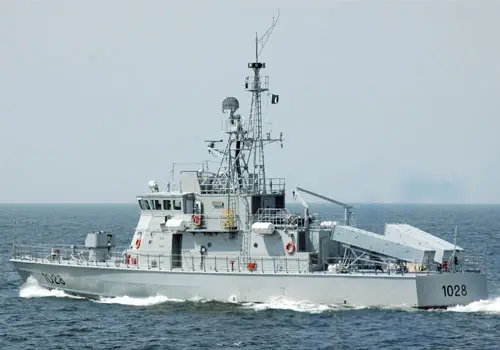 Jurrat class Multi Purpose Auxiliary Craft – Missile (MPAC) Quwwat - Pakistan Navy
Multi-Purpose Auxiliary Craft (MPAC) fitted with state of the art anti-ship missile system. The craft has a designed speed of 32 Knots, with maximum displacement of 250 Tons. Quwwat is fitted with Chinese C802 anti ship missiles and a 37mm main gun. The class was built in Pakistan by Karachi Shipyard and Engineering Works Ltd.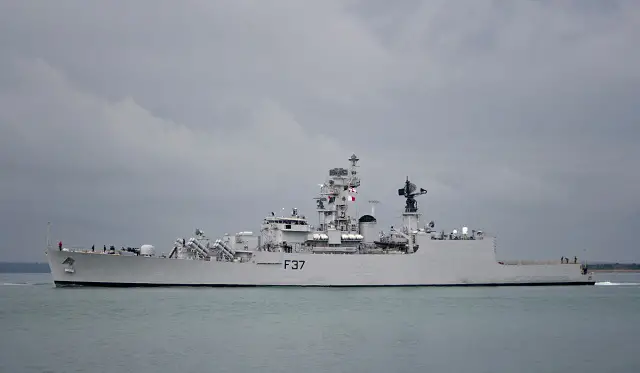 Brahmaputra-class frigate Beas - Indian Navy. Picture: George.Hutchinson
The Brahmaputra class frigates are guided-missile frigates of the Indian Navy. The design and construction of the ship is entirely Indian, and is a modification of the Godavari-class frigate. With a displacement of 3850 tons and a length of 126 metres, the class is fitted with 16x Kh-35 anti-ship missiles, 24x Barak SAM in VLS and a 76mm main gun. It is also fitted with 4x AK-630 CIWS and two triple torpedo launchers.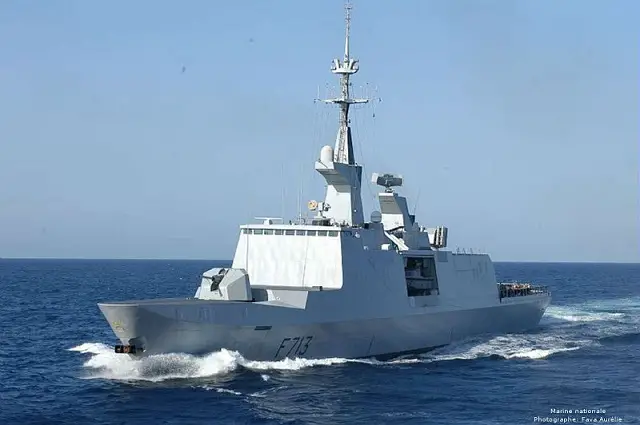 Lafayette class Frigate Aconit - French Navy. Picture: French Navy
The French Navy's La Fayette Class multipurpose stealth frigates were developed and built by DCNS. The La Fayette Class incorporates a number of stealth features – the sides of the vessel are sloped at 10° to minimize radar cross section, surfaces are made of alloy, reinforced plastic and kevlar. The profiles of external features have been reduced. The La Fayette class was designed primarily to protect and enforce the interests of the French state in its maritime areas and overseas territories, to participate in the settlement of crises outside Europe, and to be integrated into a naval force. Secondary roles for this class include providing support for an intervention force or the protection of commercial traffic and special operations or humanitarian missions support.
Link to technical datasheet