a
NAVDEX 2017 Online News Coverage - Austal
NAVDEX 2017: Austal Unveiled Stretched HSSV with Weapons and Multi-Mission Flexibility
Building upon the on-time and on-budget delivery of 2 x 72 metre High Speed Support Vessels (HSSV's) to the Royal Navy of Oman (RNO) in 2016, Austal, the Australian shipbuilder, has announced an expanded HSSV design portfolio that includes a 113 metre variant– on display for the first time at NAVDEX 2017.
Detailed view of the bow of the new 113 meters HSSV variant. Note the various weapons systems fitted to the vessel.
Like the US Navy's proven 103 metre Expeditionary Fast Transport (EPF) platform - designed and constructed by Austal and now operating with the US 5th Fleet in the Middle East - the HSSV's exceptional sealift capabilities support a broad range of naval logistics operations and may be customised to add even greater mission flexibility.

The all-aluminium, high speed catamarans feature a shallow draft that enables the fast, effective deployment of hundreds of personnel and equipment, wheeled and tracked vehicles and cargo, with medium-lift or heavy-lift (CH-47 Chinook, V-22 Osprey) aviation support options available; for joint force military operations and other missions, such as search and rescue, humanitarian aid and disaster relief.
8x Anti-ship missiles and a RAM launcher are fitted on top of the helicopter hangars.
The HSSV's unique open architecture and efficient design platform provides further flexibility and the opportunity to integrate multi-mission packages such as mine warfare, hydrographic survey and research and special-forces operations (subject to customer requirements).
The stretched deck allows the HSSV to accomodate more helicopters, including heavy lift ones.
Announcing the latest and largest model in Austal's HSSV portfolio, Chief Executive Officer David Singleton commented "The HSSV is an innovative solution that is redefining sealift capability and providing opportunities for even greater, multi-mission flexibility. This latest 113 metre variant demonstrates what is possible with a proven, effective designplatform and multiple missions to achieve."

Acknowledged as the global industry leader in high speed support vessels, Austal has delivered 7 x 103 metre EPF's to the US Navy since 2008 and will deliver a further 5 x EPF's to the US Navy, through until 2021.

In addition, Austal has delivered 2 x 72 metre HSSV's to the RNO and designed, built and chartered the 101 metre WestPac Express to the US Marines Corps for the past 15 years – achieving 99% availability over the course of the service charter.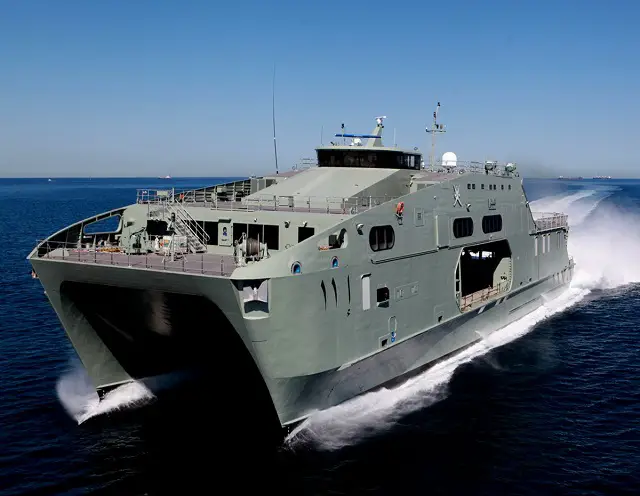 Austal's HSSV 72 delivers multi-mission flexibility in a proven design platform, capable of transporting troops, vehicles and cargo with aviation support quickly, efficiently and economically. Two HSSV 72's were delivered to the Royal Navy of Oman in 2016. (Image: Austal)