a
Naval Forces News - Russia
Keels of Two Project 23040G Survey Boats laid for Russian Navy
The Nizhegorodsky teplokhod shipyard in Nizhny Novgorod laid the keels of two big survey boats of project 23040G for the Russian Navy, the press service of the defense ministry said. "The boats are scheduled to be handed over to the Russian Navy after all tests in 2017. Another four boats, two a year, will be built in 2017 and 2018," it said. The keel laying ceremony was attended by Captain 1st rank Sergei Travin, the head of the navigation and oceanography department of the Russian defense ministry.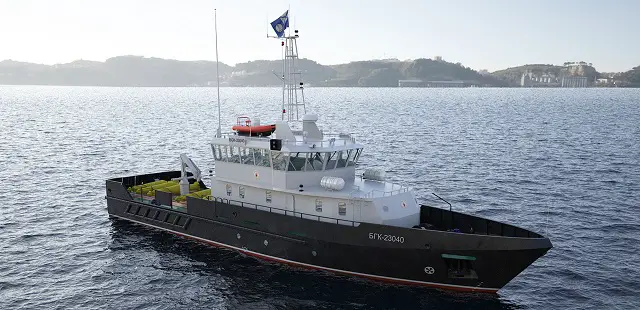 Project 23040G Survey Boat. Picture: Nizhegorodsky teplokhod shipyard
The boats are designated for precise mapping of bottom configuration to upgrade navigational charts and servicing navigational medium-size floating craft with displacement of up to 2 tons and a length of 6.5 meters. To increase manoeuvrability the boats are equipped with double crankshaft engines with fixed pitch propellers and transverse bow propellers. They can sail for unlimited time at small speeds of 4-6 knots.

The boats have a modern integrated bridge system which provides to the navigator all the necessary information from the bow and stern control posts. By guiding the vessel from the stern the navigator can control the streaming and withdrawal of navigational floating means by the deck crew and simultaneously maneouvre and monitor the surface situation through radars and automatic information systems which supply data to the electronic navigation chart on the monitor.

The boats have a hydrographic complex for sea bottom mapping and searching for navigational threats. It includes multi-beam and single-beam echo-sounders, side-scanning sonar, and high-precision coordinates location system and a tide register.

The survey of the bottom is controlled from the hydrographic post in the conning room.

© Copyright 2016 TASS. All rights reserved. This material may not be published, broadcast, rewritten or redistributed.