a
Naval Aviation News - Russia
Russian Helicopters Delivers First Modernized Ka-27M to Russian Navy Aviation
The Russian Helicopters Holding of Rostec State Corporation handed over the first modernized multipurpose Ka-27 helicopter to the Russian Navy aviation, the press service of the holding said.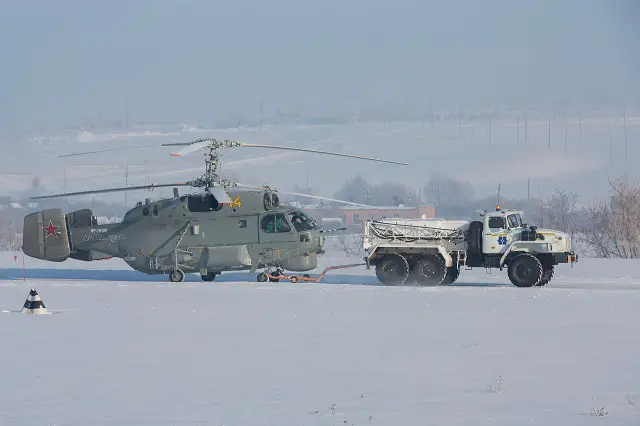 The first upgraded Ka-27M ASW helicopter of the Russian Navy. Picture: Russian Helicopters
"The new Ka-27M will increase the efficiency of the Navy aviation in close sea zone," it quoted Deputy Director General for sales Vladislav Vasilyev as saying.

In contrast to Ka-27 the modernized craft has modern means to transmit real-time information to ground and seaborne command posts and to other helicopters.

The multipurpose Ka-27 of various modifications comprise the basis of the Navy aviation at present. They provide for air reconnaissance at sea, anti-submarine defense of warships, search and detection of submarines and surface ships. Besides, they are engaged in search and rescue of aircraft, warships and vessels in distress.



© Copyright 2016 TASS. All rights reserved. This material may not be published, broadcast, rewritten or redistributed.



Comments:
The Russian Ministry of Defense, signed a contract in early 2013 wtih Kamov and Kumertau Aviation Production Enterprise for the modernization eight Ka-27PL. Commissioning of the first eight modernized Ka-27M was initially set for 25 November 2014, then was postponed to the end of 2015, but in the end only one unit is being delivered in December 2016 (the first four Ka-27PL to be modernized were reportedly sent to the factory in December 2014 only, later than expected).

Ka-27M are being fitted with new "radar, command and tactical systems" by Phazotron-NIIR corporation: A new "Spear-A" AESA radar, new acoustic and magnetic systems, new SIGINT systems, and new information systems. Phazotron-NIIR expect to upgrade a total of 46 Ka-27PL into Ka-27M standard.