a
Naval Industry News - France
ECA Group Sign Site Acceptance Test for Sonar Laboratory Simulator with Asian Customer
In November 2016, ECA Group has successfully conducted the SAT (Site Acceptance Test) for the SonSim Sonar Laboratory delivered to the Navy of an emergent country in Asia region. ECA Group SonSim Sonar laboratory is a PC based solution (CBT), for the training of sonar operators that allows to train the crews on ASW operations, through the principle of the internationally approved sonar theories.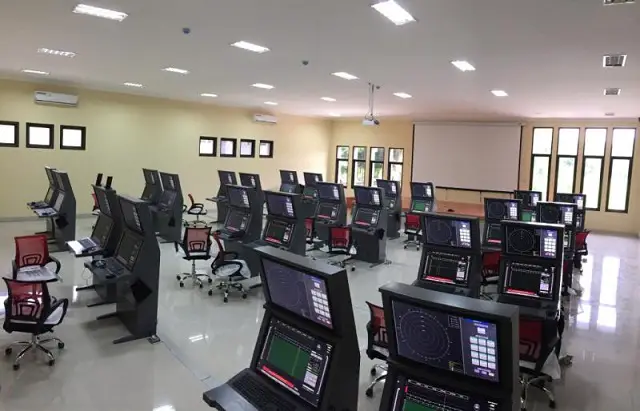 Generic Sonar Simulator Classroom - Sonar consoles. Picture: ECA Group
The system has a classroom configuration, for frontal training using modern Computer Based software to give operators, the possibility to test the sonar theories with hands on the ECA Group virtualized sonar system.

The classroom is composed of:
- One instructor station that allows the contemporaneous presence of two instructors, whom can launch and manage the exercise and control its execution
- One debriefing station, with the functionalities to record and replay the exercise on a large screen for a post-mission analysis
- One sonar classroom with twenty-four (24) student stations, all connected together in the same virtual exercise.

ECA Group Sonar Simulation system (SonSim) is a powerful software engine, with the capability to create a virtual but extremely realistic underwater environment, with all hydrographic and climatic data, as well as, the possibility to change meteorological conditions to demonstrate the effects of various sound propagation profiles while performing submarine detection mission. The Sonar Simulation system (SonSim) is also equipped with several tools that enable the instructor to assess the on-going acoustic propagation and the ability of the trainees to exploit sensors capabilities.

The most appreciated feature of Eca Group Sonar Simulation System (SonSim) is the Data Base management station that enables sonar instructors to change sonar data-base parameters in order to set the own ship sensors and environment, creating the most realistic situation possible.

The good and strong relationship with the customer could allow further evolution and updates of this simulation system according to the needs of the Navy for the future naval programs.