a
Naval Industry News - Poland, France
French Polar Logisitcs Support Vessel L'Astrolabe Launched in Poland
Polish media portalmorski.pl released a video showing the launch of France's future Polar Logistic Support Vessel (Navire Logistique Polaire or PLV). The launch took place on December 22nd in Gdynia, Poland.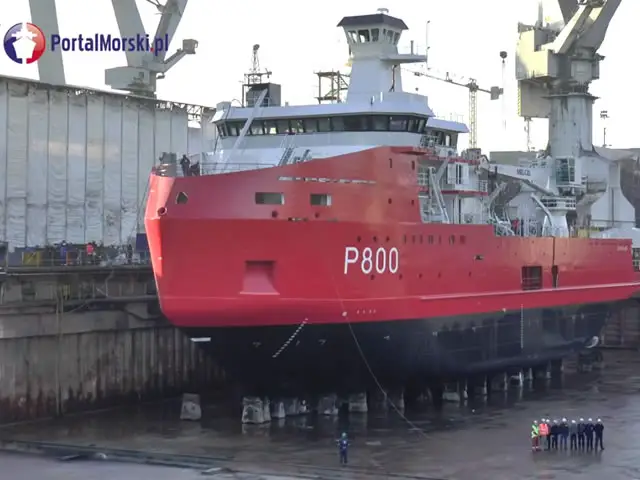 Launch of L'Astrolabe PLV in Poland. Still image from video by portalmorski.pl
In June 2015, French Minister of Overseas announced that a 50 Millions Euros contract was awarded to Piriou shipyard for the construction of one PLV. This contract was awarded through the collaboration between several French ministries: Overseas, research and defense. The PLV will replace the existing L'Albatros patrol vessel and L'Astrobale ice breaker.
The PLV should be based on Reunion island and is expected to be shared between the French Southern and Antarctic Lands (TAAF) administration, the French National Antarctic Program (IPEV) and the French Navy.

The PLV is a logistics ship and patrol icebreaker, with an overall length of 72 meter and width of 16 meters that can accommodate up to 60 people on board, carrying 1,200 tons of cargo and accomodate one helicopter.

The ship, to be delivered in early summer 2017, will sail to the Indian Ocean in autumn 2017 and the Antarctic Ocean in the winter 2017 for a first refueling campaign of the French polar bases