a
Naval Forces News - France
Airbus Helicopters Delivered the 16th NH 90 NFH Maritime Helicopter to the French Navy
Airbus Helicopters delivered the 16th NH90 NFH (Nato Frigate Helicopter) to the French Navy (Marine Nationale) on 19 February 2016. The was delivery ceremony was held at Marignane, the manufacturer's headquarters in Southern France.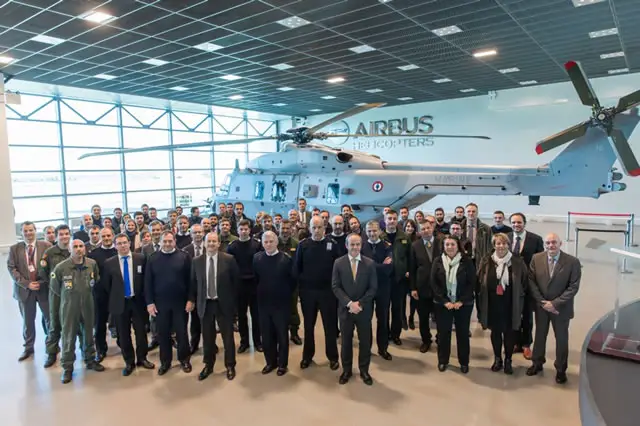 The 16th NH90 NFH Caiman delivered to the French Navy. Picture: Airbus Helicopters
Designed to replace the Lynx and Super Frelon fleets, the NH90 NFH helicopters ordered by the French Navy carry out maritime SAR, anti-terrorism and anti-submarine warfare (ASW) missions. There are two Flotilles (squadrons) operating the NH90 in the French Navy: Flottille 31F based in Hyères (Southern France) and Flottille 33F based in Lanvéoc-Poulmic (Brittany).

Contacted by Navy Recognition, a Marine Nationale naval aviation spokesperson explained that the 16th "Caiman Marine" (the designation of the helicopter in the French Navy) that has just been delivered would join Flottille 31F. In total, 27 NH90 NFH have been ordered by the French Navy, he added.

He went on explaining that 14 ASW kits are on order for the French Navy NH90 fleet. He finally explained that 13 of the helicopters are fitted with a rear access ramp.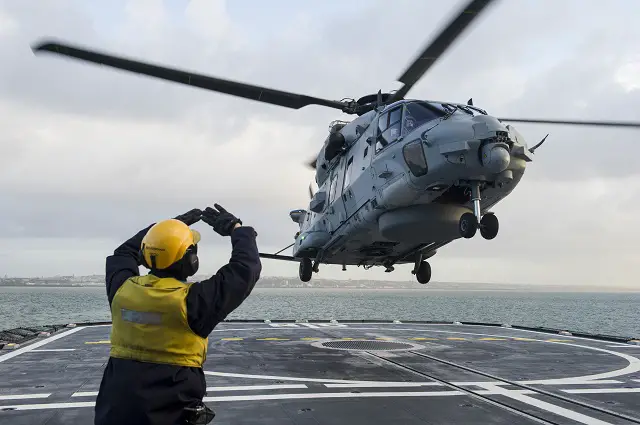 French Navy NH90 NFH Caiman take off from the deck of Aquitaine FREMM Frigate.
Picture: A.Monot©Marine Nationale
The French Navy took delivery of its first NH90 in May 2010. At first it fulfilled maritime search and rescue and maritime counter-terrorism missions. In February 2013, it achieved the anti-submarine warfare (ASW) capability and was used for the protection of the carrier strike group (CSG) or for the French SSBNs.
Since March 2015, it has the capacity to hunt and engage submarines autonomously. The French Navy currently uses all the capabilities of the NH90 NFH complex weapon system embodying an acoustic suite, a sonar, an ESM sensor, a Chaff and Flare system, an Electro Optic suite, a multimode naval radar, as well as a new generation MU90 Torpedo.
Currently three NH90 NFH Caiman are deployed. Two are part of the
Charles de Gaulle
CSG (on board the Horizon class air-defence destroyer
Chevalier Paul
and
FREMM Frigate Aquitaine
). The third NH90 is aboard FREMM
Provence
which just completed an ASW excercise with a Royal Malaysian Navy Scorpene class SSK.