a
Naval Forces News - Japan
Japan Will Soon Launch Replacement Program for JMSDF 3 Towada class Replenishment Oilers
The Japanese Minister of Defense should soon launch a new replenishement oiler program to replace the three Towada class replenishment ships. The Japan Maritime Self-Defense Force (JMSDF) Towada, Tokiwa and Hamana were ordered in the 1980ies and commissioned in 1987 and 1990.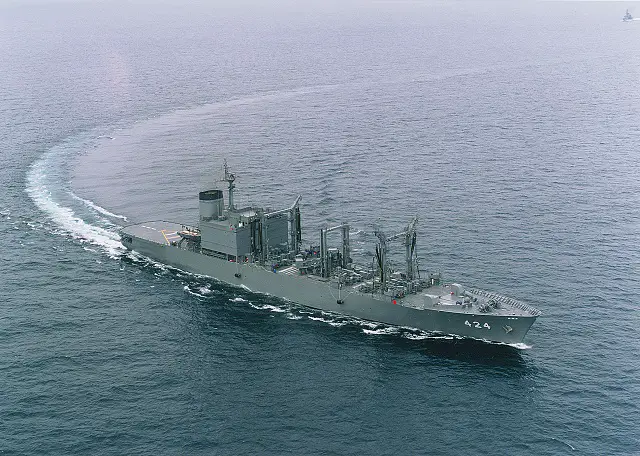 Towada-class replenishment ship Hamana AOE-424. Picture: JMSDF
The Towada-class was designed as an enlarged, improved version of the Sagami-class fast combat support ships.

The Towada-class is fitted with six transfer stations (four wet and two dry ones) for underway replenishment (UNREP) as well as a large helicopter deck for vertical replenishment (VERTREP). The remotely controlled pump system allows for the transfer of 11,000 liters per minute. This is to ensure that the refueling sequence lasts less than five minutes to reduce the exposure of the force to the submarine threat.

In addition to the Towada-class, the JMSDF has two newer Mashu-class replenishment oilers.

The date of the replacement of Towada-class is not set yet. There are no provision for replenishment vessel contruction in 2016 budget.