a
Naval Forces News - UK, France
Thales and ASV Sign Agreement to Develop Autonomous USV Technology and Capability
After successful trials on Halcyon Unmanned Surface Vehicle (USV), Thales and ASV strengthen their partnership. Both companies have signed an agreement to develop autonomous Unmanned Surface Vehicle (USV) technology and capability for maritime, civil, security and military domains.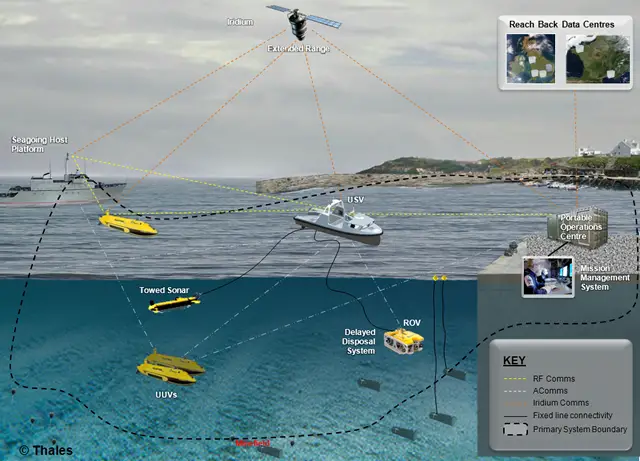 MMCM Illustration: Thales
Thales is a global technology leader with a unique capability to design and deploy equipment, systems and services to meet customer's operational requirements. ASV, an agile Small and Medium-sized enterprise (SME) with 60 employees spread across the UK and USA, has specialised expertise and experience in USV design, build, operation and maintenance.

This agreement, which builds on the strong existing relationship and the combined skills and expertise of the two companies, provides world leading, innovative solutions for autonomous maritime requirements.

Successful trials on Halcyon USV
The collaboration has already successfully delivered the innovative Halcyon USV, a key asset of the French - UK Maritime Mine Counter Measures programme (MMCM1). Designed and built by ASV, it provides high speed transit, stability, manoeuvrability and endurance. When enhanced with Thales's mission and autonomy management systems, Halcyon provides a highly capable and cost effective platform for the deployment of payloads for a wide range of maritime, civil, security and military applications.

A recent success is the support provided by Thales, with their partners ASV and SeeByte, to the UK's Defence Science and Technology Laboratory (DSTL) in the demonstration of a robust autonomous Mine Counter Measures (MCM) system through a collaborative systems approach. This was part of The Technical Cooperation Programme (TTCP), a multi-national forum for defence, science and technology.
Halcyon, fitted with Thales's mission management system and integrated with the ASView control system, operated collaboratively in the trials to demonstrate reliable autonomous operations involving
complex behaviours in a range of scenarios and sea state conditions. These trials completed operator planned missions controlled from a remote operations centre, providing operator oversight and control over
a communications link. It also showed how a USV can work autonomously with a multi-national squad of Unmanned Underwater

Vehicles (UUVs). These successful trials represent a major milestone in Thales's roadmap to deliver robust autonomous USV operations. The two companies are collaborating on the delivery of the French – UK
Mine Countermeasures (MMCM) contract, a programme which is key to the transformation of mine countermeasures capabilities and the future operational use of unmanned naval systems.