a
Naval Forces News - Russia
Russian Northern Fleet Practices Loading Bastion Missile Systems on Amphibious Assault Ship
Russian Northern Fleet servicemen are practicing loading Bastion (NATO reporting name: SSC-5 Stooge) coastal defense missile systems on an amphibious assault ship to prepare for drills, the fleet's press office said on Wednesday.

Russian Navy Northern Fleet Project 775M Ropucha-II class tank landing ship Kondopoga seen here unloading a TTM-4902PS-10 all-terrain tracked vehicle during amphibious operation.
"Missile units are undergoing training to prepare for tactical exercises. During the maneuvers, the crews of Bastion coastal defense missile systems will hold a live-firing exercise from the Barents Sea coast to hit sea targets with the use of anti-ship missiles," the press office said.

The separate missile artillery brigade's battalion is practicing loading and unloading launchers with a length of about 15 meters to the tween deck of the large amphibious assault ship Kondopoga in cooperation with its crew.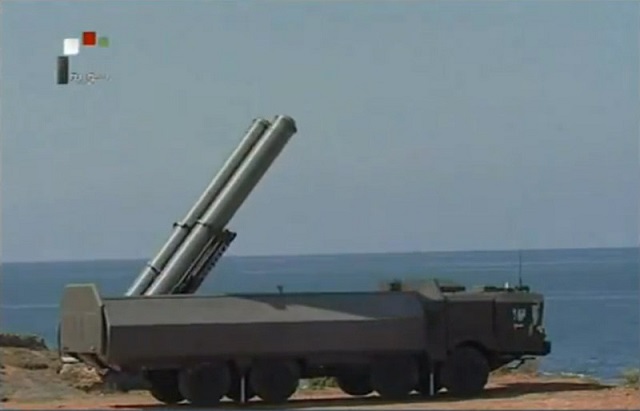 Bastion (NATO reporting name: SSC-5 Stooge) launcher unit moving into firing position
The 3K55 Bastion coastal missile system is designed to eliminate single surface ships and vessels within assault units, attack groups and convoys at a distance of up to 300 kilometers (186 miles). The system can also hit ground targets.

The Bastion coastal missile system is in service with the Russian Armed Forces. The system has been delivered to Syria and Vietnam.

The Bastion coastal missile system was deployed on the Crimean coast in 2014. In September 2014, the Bastion coastal missile system was used to destroy a training target at a range of 90 kilometers (56 miles) in the central part of the Black Sea during maneuvers.

© Copyright 2015 TASS. All rights reserved. This material may not be published, broadcast, rewritten or redistributed.