a
Naval Forces News - Russia
Latest Russian Navy Frigate & Corvette Classes to Be Upgraded with RAM Radar Absorbing Coating
The Russian-built Project 29380 (NATO reporting name: Steregushchy-class) and Project 20385 corvettes and
Project 22350
(Gorshkov-class) frigates will receive radar absorbing coating as part of their upgrade, says the press office of defense contractor Ruselectronics (a subsidiary of Rostec).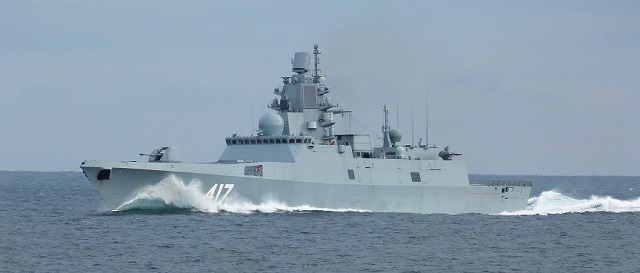 The first ship of the new Russian Navy frigate project 22350 class "Admiral Gorshkov" at full speed

"The characteristics of the [radar absorbing] materials [RAM] developed by the Ferrit-Domen Research Institute [a subsidiary of Ruselectronics] in St. Petersburg allow their use in the vessels of all classes, be it light, medium or heavy. Ferrit-Domen also is taking part in the governmental 2020 Armament Acquisition Program, supplying protective materials for ship hulls. Under the program, the Severnaya Verf Shipyard is to supply the Russian Defense Ministry with a six-ship series of Project 20380 and Project 20385 corvettes before 2018 and a six-ship series of Project 22350 frigates before 2020," the company says in a news release.

Ruselectronics has delivered a batch of RAMs in support of the upgrade of the Russian Navy's combatants.
"Another testing of the materials is scheduled for mid-2017," the press release adds.  The new-generation surface combatants being built for the Russian Navy embody the stealth technology, with their hulls featuring a special design and RAMs to reduce their radar signature.


Russian Defense Minister Sergei Shoigu had said previously that the Navy was to take delivery of six Project 22350 frigates by 2025. The ships in the class have a displacement of 4,500 tons and a maximum speed of 29 knots. They carry the Oniks (SS-N-26 Strobile) and Kalibr (SS-N-27 Sizzler) missile systems and Poliment-Redut air defense missile system.
© Copyright 2016 TASS. All rights reserved. This material may not be published, broadcast, rewritten or redistributed.


Link to
Admiral Gorshkov (Project 22350) Frigate technical datasheet
Russian frigates, corvettes to have protective radar absorbing coating