a
Naval Industry News - Egypt, Russia
Russia offers Egypt advanced weapons, electronic warfare gear to equip Mistral-class LHDs
Russia has offered Egypt sophisticated weaponry and electronic warfare (EW) and communications systems for equipping the Egyptian Mistral amphibious assault ships. The talks are in progress, Vladimir Kozhin, assistant to the Russian president for military-technical cooperation, has told TASS.
ENS Anwar El Sadat (L 1020) Mistral-class LHD of the Egyptian Navy.
Picture: Egyptian Navy
"The Russian Federation has offered Egypt a broad range of equipment for installing on the Mistral helicopter carriers. In addition to helicopters, the offer includes up-to-date armament and electronic warfare, navigation, auxiliary and communications equipment,"
he said.
According to Kozhin, the offer was worked out in accordance with the requirements and wishes of Egypt.
"Russian specialists also have offered their Egyptian partners their recommendations, including the provision of the preparatory work prior to the installation of the hardware on offer. The negotiations aimed at harmonizing the technical and commercial aspects are under way now,"
the presidential aide said.
As was reported in the media, Moscow and Cairo have been discussing a sale of the communications and control systems for the Mistrals. The sale of Kamov Ka-52K (Hokum-B) helicopters - the baseline Ka-52's ship-based version derived for the Mistrals - is a possibility too. In October 2015, Sergei Ivanov, the then president's chief of staff, said that Egypt could acquire Russian helicopters and equipment worth over $1 billion to outfit its new ships.
© Copyright 2016 TASS. All rights reserved. This material may not be published, broadcast, rewritten or redistributed.
Gibka 3M-47 naval turret mount, air defense missile system
(Image renderring: DCNS)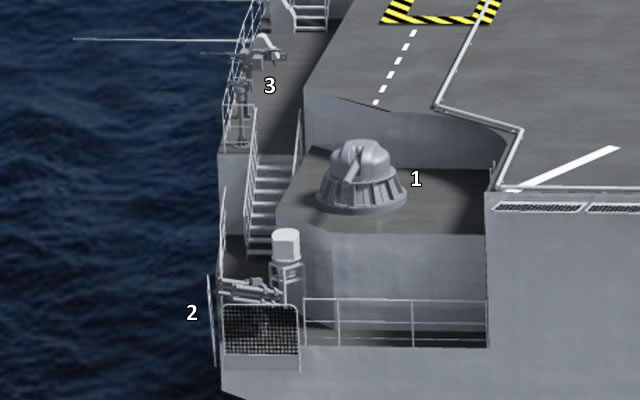 At the bow, starboard side of Vladivostok, the following weapon systems are expected to be fitted:
1- AK-630M CIWS
2- DP-65, 55 mm antisaboteur grenade launcher
3- 14,5mm KPVT heavy machine gun on an MTPU mount
(Image renderring: DCNS)
Navy Recognition comments:
While they were still intended for the Russian Navy, Vladivostok type Mistral LHDs were set to receive a fully Russian weapons fit:
Self protection against air threats were going to be fulfilled by two Gibka 3M-47 air defense missile system: One located the bow, port side and another system located at the stern, starboard side.
Two AK-630M CIWS were set to be fitted (bow, starboard side and stern, port side) for close range protection against air and surface threats.
Some 14,5mm heavy machine guns were planned to be installed for protection against close range asymmetrical threats.
Four DP-65 antisaboteur grenade launchers were to be fitted on each side of the vessels. It is designed for protection of ships against attacks of underwater combat swimmers at external roadstead open anchor stops and bases. The system ensures single-shot and salvo fire with rocket grenades RG-55M and RGS-55.