a
Naval Defense Industry News - Norway
KONGSBERG's Minesniper MkIII conducts successful neutralization of sea mines
Kongsberg Defence Systems` (KONGSBERG) latest generation One-Shot Mine Disposal Weapon System, the Minesniper MkIII, is a result of fifteen years of operational experience and continuous evolution. It represents the latest and most advanced technology within countermeasures of sea mines. The Royal Norwegian Navy (RNoN) has played an active role in the development of the latest generation of the Minesniper System.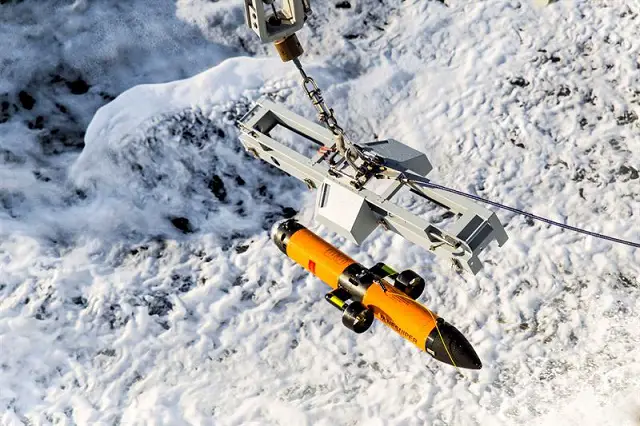 The Minesniper MkIII has demonstrated its unique capabilities in front of a professional audience. KONGSBERG and the RNoN conducted a successful operation which was concluded by firing two Minesniper MkIII weapons, one against a moored mine and one against a bottom-laid mine.
The live firing took place outside Ramsund Naval Base in northern Norway as part of the Sea Acceptance Test for the system. A RNoN MCM Vessel arrived to the test range in the morning and conducted the successful test within the planned time slot. The vessel returned immediately to base after concluding the test, thus demonstrating the rapid and flexible nature of the Minesniper weapon. The successful test has approved Minesniper MkIII for NATO Service.

A Minesniper operation is typically conducted within a fifth of the operational time compared to the use of classic ROVs.

"Our main assignment is to continuously develop and modernize the Norwegian Armed Forces. The Royal Norwegian Navy has with the Kongsberg Minesniper MkIII a state of the art One Shot Weapon System designed to meet the MCM fleet's need for an effective countermine tool. In addition, the system with its upgraded training vehicles provides the operators with a proven extended capability of identifying underwater objects. The demand for an effective and user friendly One Shot Weapon System and identification ROV is met in every way", says project manager Dag Jarle Archer-Lure in the Norwegian Defence Materiel Agency.

"We are very pleased to be part of the live firing exercise performed by the RNoN. The live firing demonstrated Minesniper's unique maneuverability, automatic navigation modes, identification and neutralization effectiveness", says Eirik Lie, Acting President, Kongsberg Defence Systems.