a
Naval Forces News - Russia
Veliky Novgorod fifth Project 636.3 diesel-electric submarine delivered to Russia's Black Sea Fleet
The fifth Project 636.3 diesel-electric submarine Veliky Novgorod has joined Russia's Navy, a TASS correspondent reports from the scene. The ceremony of raising the St. Andrew's flag on the vessel was held at the Admiralty Wharves Shipyard in St. Petersburg in northwest Russia. The ceremony was attended by Navy Deputy Commander-in-Chief Vice-Admiral Alexander Fedotenkov and Shipyard CEO Alexander Buzakov.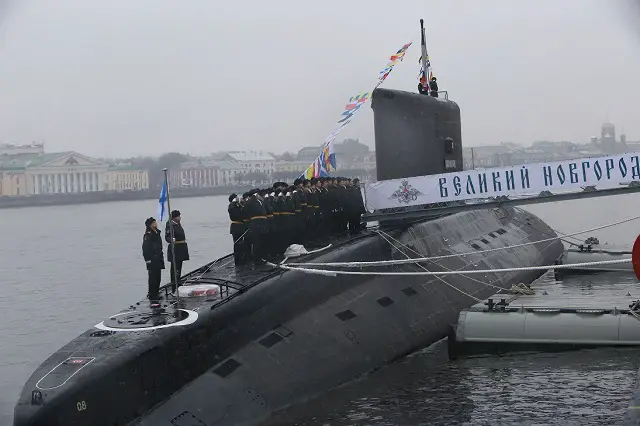 Veliky Novgorod is the fifth Project 636.3 SSK for the Black Sea Fleet. Picture: Admiralty Wharves Shipyard
"The submarine Veliky Novgorod passed all state trials and confirmed all its combat capabilities. The previous Project 636.3 submarines that joined Russia's Black Sea Fleet also confirmed their characteristics in combat conditions," Buzakov said.
The submarine Veliky Novgorod is the fifth out of six Project 636.3 submarines designed for the Russian Black Sea Fleet.
The first two submarines, the Novorossiysk and Rostov-on-Don, were delivered to the Navy in 2014. Another two submarines, the Stary Oskol and Krasnodar, joined the Black Sea Fleet in 2015.
The Russian Navy is expected to receive the sixth Project 636.3 submarine Kolpino before the yearend. As it was reported earlier, the flag-raising ceremony is planned to be held on November 25.
Also, the Admiralty Wharves Shipyard will build another six Project 636.3 diesel-electric submarines for Russia's Pacific Fleet.
The relevant contract was signed at the Army 2016 forum in the Moscow Region. The construction of the second series of the submarines is expected to be completed in 2021.
© Copyright 2016 TASS. All rights reserved. This material may not be published, broadcast, rewritten or redistributed.