a
Naval Forces News - Russia
Video: Russia Launches First Project 885M Yasen-M-class Submarine K-561 Kazan
The Kazan nuclear submarine with missile and torpedo armaments, the first one to be built by the upgraded project 885M (code Yasen-M) left the building slip and was floated at the Sevmash Shipyard, TASS correspondent reported from the site.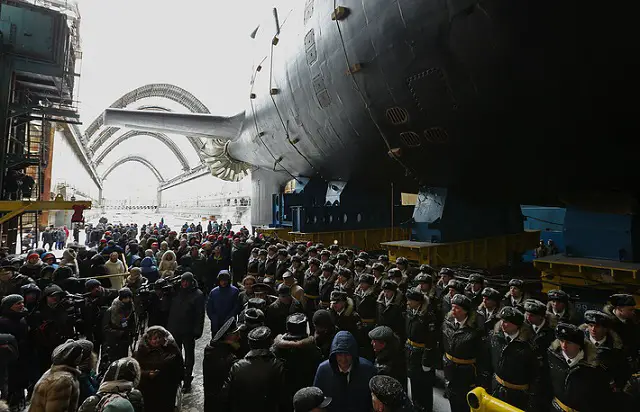 Launch of the first porject 885M Yasen-M-class submarine K-561 Kazan (TASS picture via bmpd.livejournal.com).

Shipyard Director Mikhail Bunichenko gave the order to float the submarine from the building slip after which submarine Commander, Captain First Rank Alexander Beketov broke a traditional bottle of champagne against the shipboard. The event was attended by Russian Deputy Prime Minister Dmitry Rogozin and Navy Commander-in-Chief Admiral Vladimir Korolev.

"The floating of a modern multipurpose underwater cruiser of upgraded Yasen-M project is a major development for the country, the armed forces and the Navy. Together we are fulfilling the construction plan approved by the government. A group of nuclear submarines is being created to accomplish missions in any part of the world ocean and ensure the security of Russia." Admiral Korolev said at the ceremony.

The Kazan submarine has been built by Sevmash since 2009. It has to become operational in the Russian Navy in 2018. It will join the Northern fleet. A total of seven submarines of project 885 and 885M have to be built by 2023. The nuclear submarines were designed by the Malakhit maritime design bureau in St. Petersburg. The lead submarine of the Severodvinsk series built by project 885 was handed over to the Navy on June 17, 2014 and underwent test trials until the spring of 2016.

Nuclear submarines Novosibirsk, Krasnoyarsk, Arkhangelsk, Perm and Ulyanovsk are being built by the upgraded project 885M. The keel of the seventh submarine is to be laid in the summer of 2017.

© Copyright 2017 TASS. All rights reserved. This material may not be published, broadcast, rewritten or redistributed.