a
Naval Forces News - Russia
Russia's Poliment-Redut Naval Air Defense System to Receive S-350 Compatible Missiles
Russia's Poliment-Redut seaborne missile complex will be armed with three types of missiles unified with the S-350 Vityaz ground-based air defense system, Almaz-Antey aerospace defense concern Designer General Pavel Sozinov said.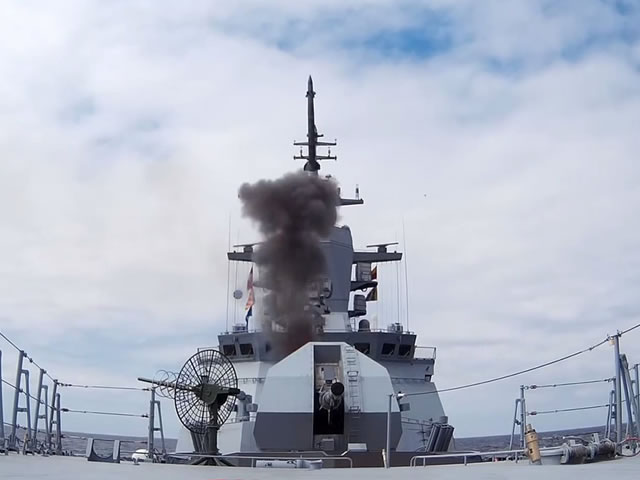 Launch of the "Redut" SAM missile during tests from Corvette "Sobystvitelny" Project 20380. Picture via militaryrussia.ru

"The Poliment-Redut-R R&D is focused on developing small-, medium- and intermediate-range missiles for arming the relevant ships," he said in an interview published by the National Defense magazine.

"Poliment-Redut missiles have been unified with the S-350 Vityaz air defense system," the chief designer added.

All new-generation missiles are being developed with active homing heads and the inertial guidance system and feature very high maneuverable characteristics for hitting the entire range of attack means, Sozinov said.

It was earlier reported that the Fakel Design Bureau produced two hard-fuel single-stage missiles with a firing range of 40 kilometers (9M96E) and 120 kilometers (9M96E2). They can intercept air targets at an altitude of 5 meters to over 30 kilometers. The use of modern gas-dynamic control means decreases the reaction time of new Russian missiles to 0.025-0.1 second and provides for super maneuverability regardless of the flight altitude and range. The missiles are distinguished by a number of characteristics, in particular, a combined use of active radar homing seekers with highly maneuverable characteristics of the missile. They are also distinguished by a radically decreased launch weight - 330 kilograms for 9M96E missile and 420 kilograms for 9M96E2 missile.



© Copyright 2017 TASS. All rights reserved. This material may not be published, broadcast, rewritten or redistributed.