a
Naval Defense News - USA
General Dynamics NASSCO Launched the 2nd U.S. Navy ESB - USNS Hershel "Woody" Williams

On Saturday, August 19, General Dynamics NASSCO successfully completed the float-out for USNS Hershel "Woody" Williams (ESB 4), the second Expeditionary Sea Base (ESB) to be constructed for the U.S. Navy by NASSCO shipbuilders.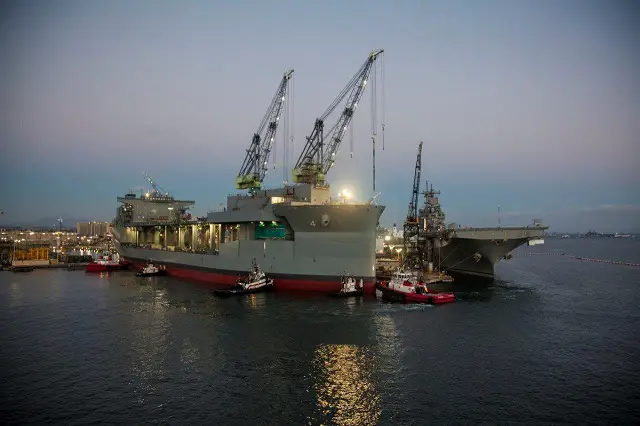 USNS Hershel "Woody" Williams floats out of NASSCO's graving dock for the first time. In the background: USS Boxer (LHD-4), currently under maintenance by NASSCO's repair division.
The launch of ESB 4 involved slowly flooding the launching dock with water until the ship could freely float for the first time. Following launch, the ship completes construction and final outfitting before going to sea to complete a series of tests and trials prior to delivery in early 2018.

Named after retired U.S. Marine and Medal of Honor recipient, Hershel Woodrow "Woody" Williams, the 784-foot-long ship will serve as a flexible platform to support a variety of missions, including air mine countermeasures, counter-piracy operations, maritime security and humanitarian missions.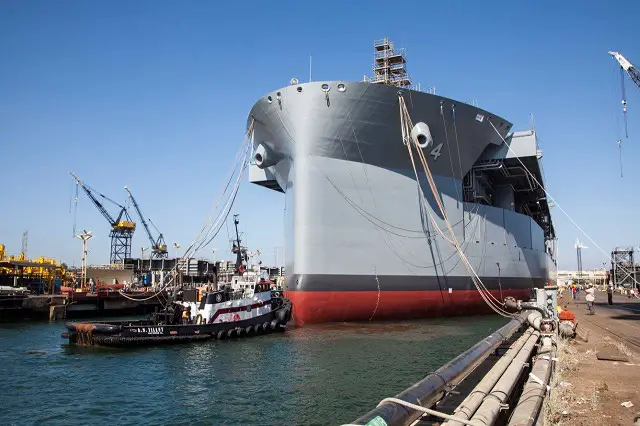 USNS Hershel "Woody" Williams at General Dynamics NASSCO, August 19, 2017.
"We're making tremendous progress on this ship" said Capt. Scot Searles, Strategic Sealift and Theater Sealift program manager, Program Executive Office Ships. "We'll begin powering many of the ships engines and systems as early as next month as we prepare to get underway for sea trials in the coming months."

The ESB will primarily support Aviation Mine Countermeasure and Special Operations Force missions. In addition to the flight deck, the ESB has a hangar with two aviation operating spots capable of handling MH-53E equivalent helicopters, accommodations, work spaces, and ordnance storage for embarked force, enhanced command, control, communications, computers, and intelligence to support embarked force mission planning and execution and reconfigurable mission deck area to store embarked force equipment to include mine sleds and rigid hull inflatable boats.

General Dynamics NASSCO has delivered three ships in the class to the Navy: USNS Montford Point (ESD 1), USNS John Glenn (ESD 2) and USNS Lewis B. Puller (ESB 3). In addition to USNS Hershel "Woody" Williams (ESB 4), a fifth ship as part of the program is under construction at NASSCO: ESB 5 which started fabrication in January 2017 and the keel laying is planned for early next month. They are also the construction yard for the Navy's T-AO John Lewis-class fleet oilers.